The Walking Dead: Michonne Gets Final Slice Next Week
Chop, chop April 26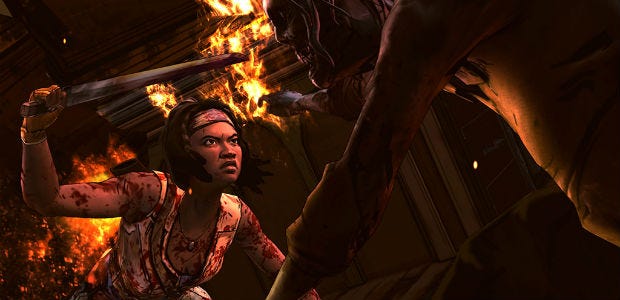 Having never read the comic book series, I mostly know The Walking Dead's Michonne as the samurai sword-wielding walker-whacker that's played by Danai Gurira in the television series. Courtesy of Telltale's point-and-click spin-off, though, I now also know her as the equally bad ass serial choice maker-er who's about to embark on her third and final miniseries episode. Named "What We Deserve", the last outing of The Walking Dead: Michonne [official site] will launch on April 26.
Continue on to read SPOILERS.
Leave now to avoid SPOILERS.
Good choice. Similar to the last episode's announcement, Telltale have put together another choices recap trailer - which unfolds as per the most selected player choices last time round - ahead of next week's finale. They've also offered a brief overview of what to expect. Again, SPOILERS:
"In this third and final episode, feeling the weight of choices both recent and long ago, Michonne tries to protect an innocent family... but Norma and the vengeful Monroe crew are closing in. As reality shatters and the ghosts of the daughters she abandoned demand to be heard, your choices will determine who lives, who dies, and what redemption really means in a world gone to hell."
I'm currently about half-way through Michonne's second episode and while I love the titular character herself, I've found the game's storytelling to be a bit lacking so far - at least compared to Telltale's other Walking Dead entries. Michonne's flashbacks and temporary delusions offer a welcomed sense of fragility against the end-of-the world premise and her leanings towards brutality, however the overarching narrative has often felt rushed, therefore diluting its impact.
Perhaps episode three can pull it all back in line with a stonking conclusion, but in the meantime here's the latest "Your Choices" cinematic to get us all up to speed.
PREVIOUSLY ON THE WALKING DEAD: MICHONNE:
The Walking Dead: Michonne miniseries can be bought in its entirety from Telltale, Steam, and GOG for £10.99/$14.99.