The Wolf Among Is Us From Tomorrow, Launches Trailer
Where wolf?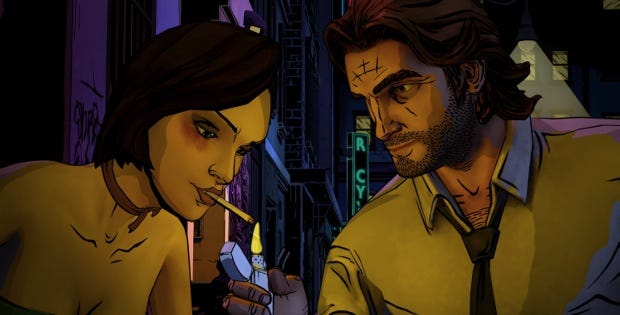 Telltale have put themselves in a difficult spot. After years of their mediocre adventures getting rather overly generous reviews (and their excellent Strong Bad series earning them), last year they produced a genuine hit. The Walking Dead saw the developer finally stop being a LucasArts tribute act, and develop their own distinct identity. Now they've got to follow it. DC's Fables-inspired The Wolf Among Us is their first attempt to do so, and it looks to be taking the mechanics of Walking Dead even further. The first episode is out tomorrow, and there's a sweary launch trailer below.
The art style is interesting. Which is code for: I can't tell if I like it. It's the rotoscoped design of TWD, combined with what looks like an 80s comic book palette.
Gosh, there's a ton of potential for this one, isn't there? With their new-found confidence and recognition of where their talents lie, Telltale could - after so long - prove to be the company who make episodic gaming work.