Competitive cowering: They Are Billions adds a weekly map run
A barrel of laughs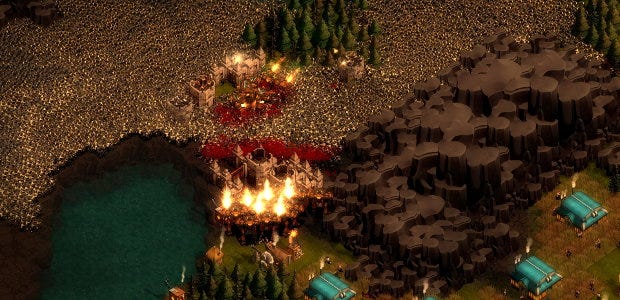 They may be billions, but so so far it's only taken a few dozen zombies to break through my defences in tower defence/RTS hybrid They Are Billions. That's a shame, because if I was any better then I'd love to take part in the weekly challenge run that was included in Friday's early access update. Every week you get one chance to take a stab at the same survival map as everyone else, then compare your score with strangers and friends.
Also added in the update are waypoint commands for units, a sprinkling of (habitable!) abandoned towers, and transportable explosive barrels - three things that every apocalyptic scenario can't be complete without.
Those waypoints might sound like a small addition, but it means that you can now get your units to patrol your base's perimeter rather than just a straight line back and forth. Admittedly this might be a bigger deal for me than more accomplished survivors, seen as so far I've always lost before I've even managed to get my walls up. It might be the difference between life and death for me, but at the very least you should find that you have to faff around with your defences a little less.
As for those towers, the patch notes don't tell me their specific capabilities but I can see a big old gun on the one in this screenshot. I'm a ways off managing it myself, but I like how these might encourage risky base expansions in order to nab them.
The explosive barrels are what excite me the most, however. They can be found in ruins, and certain military units can pick them up and pop them wherever you like. You can then shoot them for a massive explosion that will detonate any other barrels in range, which sounds like a fantastic emergency measure. Deciding if and when to light them up should be a deliciously cinematic decision.
There are also some bug fixes, support for more languages and some quality of life improvements, which you can read about in the full patch notes.
If you're unsure whether to pit yourself against the zombie hordes, you might want to check out our Premature Evaluation. Defending your base is "a Sisphyian task", says Fraser Brown, but one that he enjoyed.