Thimbleweed Park Trailer Evokes X-Files, Twin Peaks
The truth is in here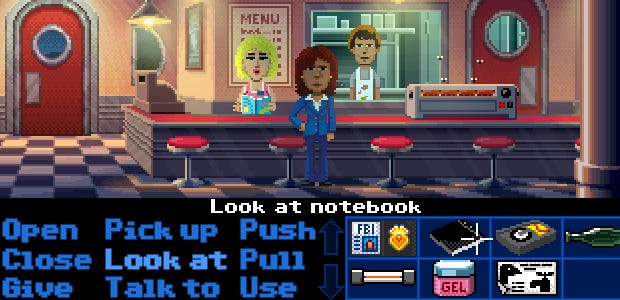 Thimbleweed Park [official site] is the upcoming point-and-click adventure from Ron Gilbert and Gary Winnick that's billed as a "true spiritual successor" to the duo's 1987 classic Maniac Mansion. It's designed to emulate the LucasArts games of Way Back When, complete with black comedy and an instantly recognisable SCUMM-style interface, and now has a new trailer. Introducing Agent Ray:
How's that for nostalgia overload? Agent Ray is but one of Thimbleweed Park's five playable protagonists amid a wider cast of twenty characters. Expect puzzles-a-plenty and snappy dialogue as you pick up and look at and talk to everything and anything that you can lay your eyes upon. Gilbert and Winnick also talk of "a joke every 2 minutes... guaranteed!" while "poking fun at Twin Peaks, True Detective and The X-Files, with a little Stephen King thrown in just for fun." Here's a synopsis:
"Thimbleweed Park is the curious story of two washed up federal agents called in to investigate a dead body found in the river just outside of town, bloated and pixelated from a death some too soon. Lost along a dusty stretch of highway, the town of Thimbleweed Park once boasted an opulent hotel, a vibrant business district and the state's largest pillow factory, but now stinks of a desperate longing to be what it once was."
Thimbleweed Park was funding by a Kickstarter in 2014, hitting its funding goal in just one week. The campaign unashamedly sold itself on nostalgia, and, with trailers like the one featured above, appears to be delivering on that front so far. If you backed, what are you thoughts? If you didn't, you can still do so over here. Previous backers who wish to upgrade their initial offerings are advised to do so via a personal link sent in previous emails.
Thimbleweed Park is due for release at some point this year on Windows, Mac and Linux.