This $45/£38 Steam Deck dock is a great alternative to Valve's official model - and I've tested it
100W USB-C passthrough, 4K 60Hz HDMI, ethernet and three USBs.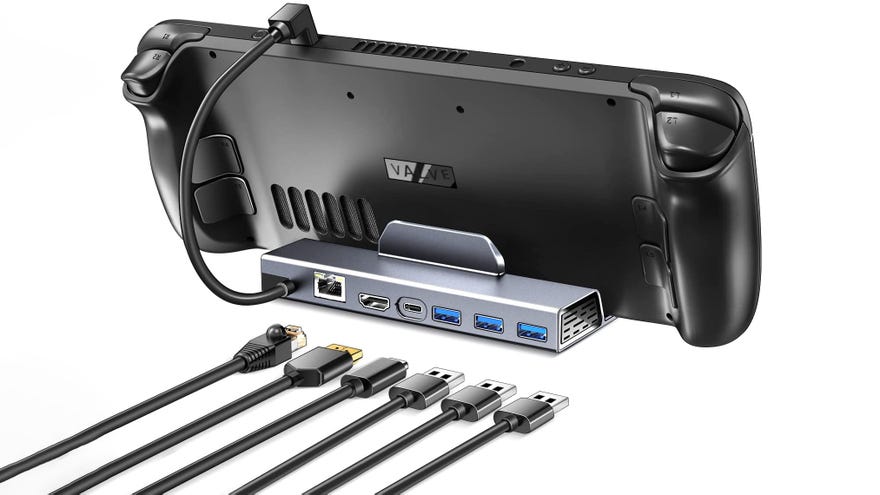 The official Valve Steam Deck Docking Station looks great, with DisplayPort and HDMI, ethernet, three USB ports and a design that perfectly fits the Steam Deck for £79. However, delivery times are 1-2 weeks, and you can now get a functionally identical alternative for half the price.
It's the iVoler Steam Deck Dock, which normally costs £49.99/$55.99 but is now down to £37.59 in the UK or $44.99 in the US. I've been testing this model for the past few days; here's why I rate it.
So iVoler reached out to send me their first generation dock a few months back, and it was pretty decent - its plastic build fit the deck like a glove, the three USB ports were super handy and the included USB-C cable for charging was perfectly sized. However, there were some limitations - most notably its maximum output resolution at 4K was 30Hz, which causes issues when outputting to a standard 4K 60Hz monitor or TV.
Now their second-gen model has hit the market, with a discount to celebrate, and it's much-improved. The HDMI output now maxes out at 4K 60Hz or 1440p 144Hz, the main body of the dock is now made of metal, and there's a new ethernet port for hooking up high-speed internet to download all of those game updates at a rapid pace. Passthrough USB-C charging is now 100W instead of 65W too, although this is beyond what the Deck is limited to - but perhaps it'll be useful for other devices, even future Decks.
In use, the iVoler dock worked pretty much straight away - the only problem I encountered was inserting mouse and keyboard plugs into the USB ports, which appear to be a little tighter than average. Still, I expect these will loosen up over time, and everything else has worked flawlessly - it was easy to switch to desktop mode and set up higher output resolutions and refresh rates, the Deck is held in place steadily and the whole setup looks very slick.
The missing DisplayPort output compared to the official Dock doesn't seem to be an issue, as I can hit my desired resolutions and refresh rates over HDMI, but might be necessary if your monitor has a free DP but no free HDMI ports - probably a rarity?
So far, I've used the Dock to get my Steam Deck all set up with the best Steam Deck games, install programs on the Linux desktop side, and so on - it's just much easier to do this with a proper keyboard, mouse and monitor than it is using the standard Deck controls, especially when you're signing into websites or game services, and downloads come much faster over ethernet. Then, I can take the Deck with me when I travel, knowing everything is sorted - and I could even bring the dock if I wanted to play on the big screen in my hotel room, for instance.
So yeah, at £37/$45 this is well worth picking up - and if you have any questions about the dock, do let me know and I'll be happy to answer them!