This forgotten point-and-click adventure is getting an "official" sequel 35 years later
Better dig your magic sword out of the loft, Shadowgate's back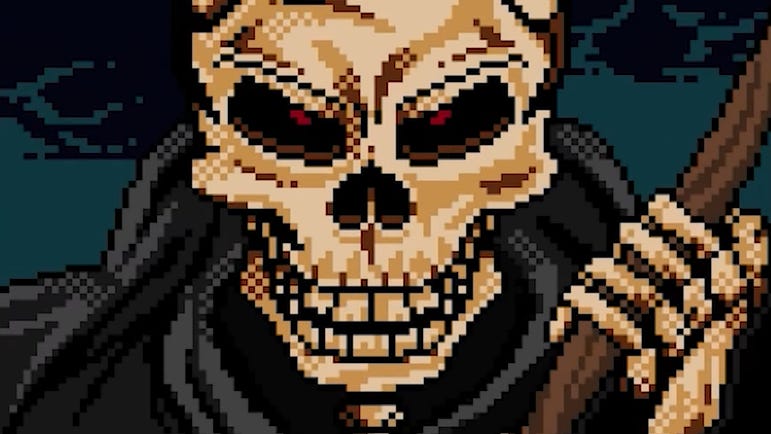 Back in the days of 1987, fantasy point-and-click adventure Shadowgate was notoriously deadly. The type of thing that fell very much into the 'touch anything and you're dead' bracket of early adventure games. Getting eaten by sharks, burned to death by a dragon, and the awkward fate of being dragged into space through a shattered mirror were just some of the ways you could cop it on the black and white Apple Macintosh original. Heck, if you lost your torch while exploring, you'd also fall and break your neck within minutes. Happy days! No doubt, then, that you'll be pleased to hear that the original creators are now making a Shadowgate sequel for PC, more than 35 years after its initial release. Beyond Shadowgate is launching a Kickstarter campaign on February 18th, and promises lots more ridiculous ways to pop your clogs.
Not to be confused with the 1993 TurboGrafx CD sequel of the same name, this modern iteration features a new protagonist called Del and takes place in several different locations, developers Zojoi explain on their website. It's still going to be a first-person dungeon-crawling adventure, but the devs have said they're hoping to make it four times larger than the original Shadowgate. There'll also be more monsters, puzzles, items, and, of course, a load more ways for your character to snuff it. Luckily, Beyond Shadowgate will also have a hints system, so it might not be quite as deadly.
As you can see from the Kickstarter trailer, two of Shadowgate's original creators David Marsh and Karl Roelofs are on board to develop, and they'll be leading the rest of their team at Zojoi to help bring it to fruition. Set 35 years after the evil Warlock lord of the first Shadowgate was defeated, Beyond lets you venture farther than the spooky castle of Shadowgate itself. As Del, a recent escapee from prison, you'll embark on your travels across the land of Gwynenthell, travelling through mountains, forests, and other mysterious places. Beyond Shadowgate should have more than 20 NPCs to encounter along the way too, compared to the original game's three, so at least you won't be as lonely wandering around its dungeons. A new day/night cycle and fast travel system also round out the sequel's new features.
Shadowgate started out on the Mac, but was ported in colour to the Amiga, Atari ST and the Nintendo Entertainment System in the years after its initial release. There was even a Palm OS version at one point. It also spawned the aforementioned TurboGrafx 16 sequel in 1993, and a second one for the Nintendo 64 called Shadowgate 64: Trials Of The Four Towers in 1999. However, the devs are now calling this new incarnation of Beyond Shadowgate the "official" sequel to the 1987 original, so maybe they're pretending those other versions don't exist anymore.
Zojoi have also since remade the original Shadowgate for PC, releasing it on Steam and GOG in 2014. A VR spin-off from Shadowgate, The Mines Of Mythrok, also landed on PC and Oculus last year.
As an avid point and clicker myself, I'm intrigued to see how Beyond Shadowgate fits into the modern era of adventure games, and I'll be keeping a close eye on how its Kickstarter progresses once it launches on February 18th. Watch this space.