This War of Mine starts story-focused expansion series
Is this yours?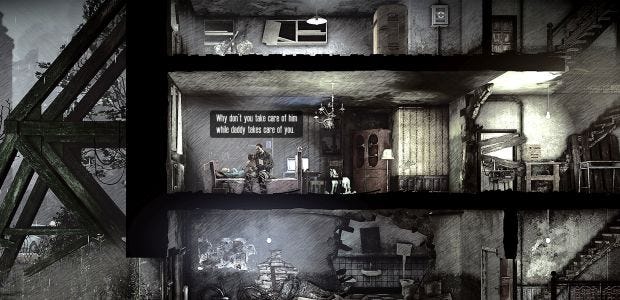 If you like your emotional gut-punches delivered via authored narratives rather than emergent stories, then I've got some great news. This War of Mine is stepping away from the wartime survivalist Sims strategy that makes up the the main game, and now wants to tell you about how miserable the lives of specific people are in more detail. "Father's Promise" is out today, and it's the first entry in the "Stories" DLC series that will tell a different story with each episode.
If that tickles your tear ducts (in a good way, I'm presuming), you can check out the trailer below.
I haven't played This War of Mine, but it seems like the right move for a game that aims for emotional heft - and succeeds, but in a way that sounds like it has limits. As Alec said in his review, "Whether This War of Mine truly succeeds in saying anything more than 'war is hell' I don't know." Focusing on a story might be a good way of expanding on that basic sentiment.
This first episode isn't just any old story either. It's based on an audio drama by Polish author Łukasz Orbitowski, in which "you take on the role of Adam, a father trying to save his daughter from the horrors of war and escape the besieged city".
This isn't the first time This War of Mine has used children to plug at people's heartstrings: The Little Ones expansion threw endearing proto-adults into the mix.
Father's Promise is available on GOG and Steam for £1.69/$1.99/€1.99 or as part of the season pass on GOG or Steam for £3.99/$4.99/€4.99. The base game is on sale right now too.