Tilt The World: Google's Marble Map Game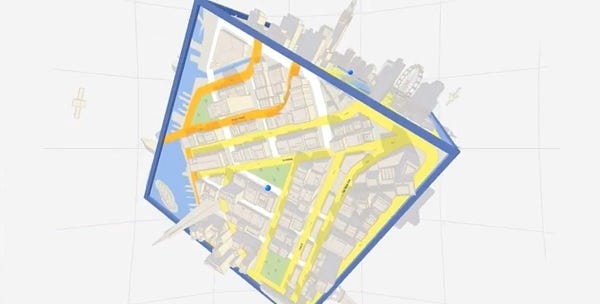 I'd usually Google for information on a game I knew nothing about, but that's proving impossible about this Google Maps based game from Google. Googling for Google Maps kind of only takes you to one place. So what do we know?

That is what we know. Google have only released a single video and nothing else. So instead I'm left to ponder exactly what the video is showing, using my eyes to see and my brain to stop thinking about what I could do with science putty and start wondering about this. It's based on Maps and will run in their social network, Google+.
Tilting the world allows the player to move a ball through the maps. You'll notice that when the ball approaches the Bellagio Hotel, the level flips around to an inside view of the building, following accurately recreated floor plans. So they're using the real-world data as game levels, albeit abstractly. The goals are collection-based: you'll note that one of the targets the rolling ball collects is Joel Robuchon, the French chef who has more Michelin stars and has a restaurant in the Bellagio. There are also little signs with "Zagat" on them, which makes me worry that it's more about advertising and branding than it is about making a compelling game. But I've only seen a half-minute video, and I was impressed by the real-world skyscapes poking up from the game cube.
One nugget of info did result in an interesting little research diversion: they're powering it with WebGL. Seeing what that library is capable of here will give plenty of hope for brower-based games.