To The End? Mass Effect 3 Extended Cut Set for Summer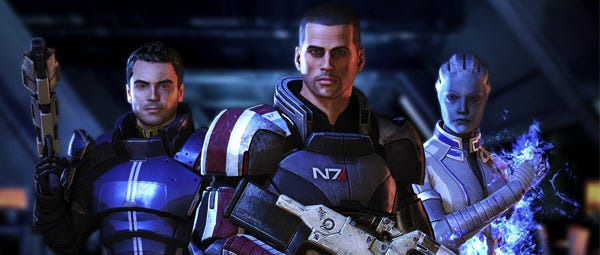 Hey, remember those "content initiatives" aimed at providing "clarity" for Mass Effect 3's ending? Well it looks like they will part of a spread of DLC arriving in a few months time. I was hoping they'd swap out the ending for a Bollywood dance number and something involving puppets, but oh well. I suppose DLC that's "more personalized for each player" will do in a pinch. BioWare's officially deemed it The Extended Cut, and it's free! Pretty neat, huh? But today, we too are announcing our own extended cut. It's attached to the lower half of this very post. And that's free, too.
Right. Well, that was an anticlimactic. Anyway, here's BioWare's Ray Muzyka clarifying the clarification ending with clarification.
"We are all incredibly proud of Mass Effect 3 and the work done by Casey Hudson and team. Since launch, we have had time to listen to the feedback from our most passionate fans and we are responding. With the Mass Effect 3: Extended Cut we think we have struck a good balance in delivering the answers players are looking for while maintaining the team's artistic vision for the end of this story arc in the Mass Effect universe."
Further, BioWare's put together a handy FAQ that outlines what exactly we can expect from the Extended Cut. This bit, especially, seems pretty crucial.
"BioWare strongly believes in the team's artistic vision for the end of this arc of the Mass Effect franchise. The extended cut DLC will expand on the existing endings, but no further ending DLC is planned... BioWare will expand on the ending to Mass Effect 3 by creating additional cinematics and epilogue scenes to the existing ending sequences."
So then, this is the ending to end all endings, apparently. Also, it doesn't sound like it'll be too terribly different. Just, you know, extended. It remains to be seen whether or not this will quiet the guttural yells coming from ME3 detractors very angry corner of the galaxy, but here's hoping. Mostly because I'd really, really like to talk about something else. How about bread? Who here likes bread?