To The Moon Devs' A Bird Story Now Flapping About
Flapping, like a bird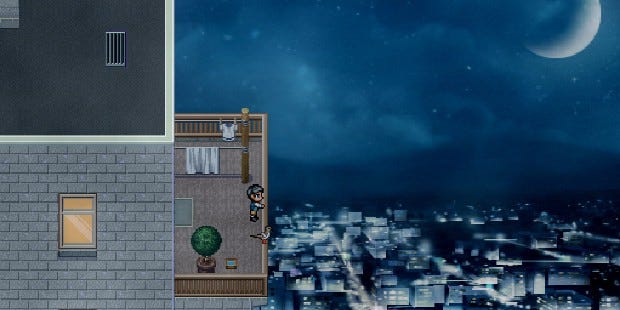 John probably wants you to cry at A Bird Story, you realise. He's spoken before about his sinister habit of extracting confessions of tears from people who played To the Moon, and surely he's got something more devious planned for the not-sequel. A Bird Story launched on Friday, and I would recommend that you first check your play area for e.g. funnels concealed in the surface of your desk connected to tubes which vanish out through your wall and underground to barrels in John's lachrymose lair. The very setup is dangerously tearjerky: a boy finds a bird with an injured wing.
Developers Freebird Games call it an "interactive pixel-animation ... told through a dialogue-free blend between reality and imagination." This is the extent of my knowledge, having not played it yet and not wanting to poke around lest I learn too much. Maybe the bird dies. Or the boy dies. Or they both die. Or the bird gets better and flies away and it fills the boy with hope. Or the boy dies and it turns out his dying thought was a tragic dream about dying together with a poorly pigeon because even that was more hopeful than anything in his whole miserable life.
A Bird Story is £2.69 DRM-free on GOG, £3.39 on Steam, or the Humble Store give both a DRM-free version and a Steam key for £3.39. It's on Windows, Mac, and Linux.