Today's Beast Game Idea: Beast Boxing Turbo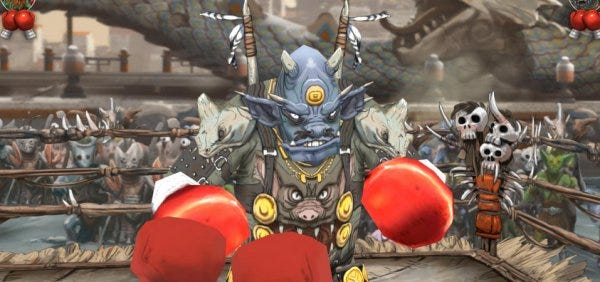 I've always said that the PC needs more first-person boxing games, and so I must extend my gratitude to Good Hustle, developers Beast Boxing Turbo. It's not hard to guess where they take the game: you box lizards, you box trolls, you box skeletons, you box demons - all in a lovely hand-drawn art style. It's just about beasts getting a thump up the bracket, basically. And they look good while they're doing it. I am not sure how "turbo" relates to it, but I am guessing it's one of those suffixes that are automatically added to games dependent on genre, without any real reason.
Anyway, you're probably definitely going to want to see skeletons get punched with bright-red boxing gloves, so there's a video below for that. The game will be released "soon".