Today's Important News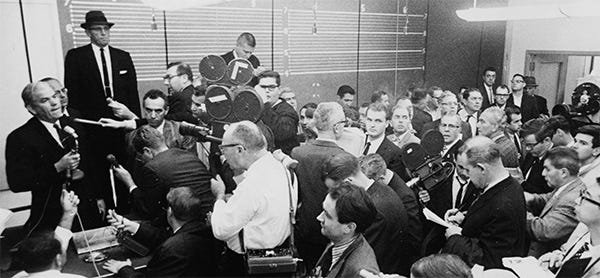 As RPS is apparently having a bit of an Indie Tuesday, we're short on big, sensationalist, hit-grabbing headlines today - so in desperation I thought I'd pen a load of them to see if we can reach 40 billion unique users a second. If one of these don't immediately have you seeing a particularly bloody shade of red and penning a torrent of invective on your forum of choice, then you are... a well-balanced human being. Well done.

'IS A NEW VIDEOGAME PERHAPS GOING TO BE RELEASED AT SOME POINT IN THE FUTURE?'
'A NEW VIDEOGAME WILL CONTAIN SOME SORT OF COPY PROTECTION SYSTEM.'
'A VIDEOGAME DEVELOPER HAS SUGGESTED THAT ONE GAMES CONSOLE MIGHT BE EVER SO SLIGHTLY PREFERABLE TO ANOTHER ONE.'
'SEQUEL TO A BELOVED VIDEOGAME IS A BIT DIFFERENT.'
'"SOME SORT OF TECHNOLOGY IS 'THE FUTURE'", SAYS MAN.'
'"VIDEOGAMES ARE BAD", SAYS AN 'EXPERT' WHO DOESN'T PLAY GAMES BUT WAS ASKED ABOUT THEM BY AN EXPLOITATIVE IDIOT WITH AN AGENDA.'
'"OOH THIS OTHER VIDEOGAMES COMPANY ISN'T ALL THAT NICE"' SAYS A MAN FROM A DIFFERENT VIDEOGAMES COMPANY ALTOGETHER.'
'NEW CONSOLE WILL HAVE SOME SORT OF PERCENTAGE MORE POWER THAN A CONSOLE YOU ALREADY OWN.'
'ENORMOUSLY SUCCESSFUL VIDEOGAME "MIGHT" SEE A SEQUEL, IMPLIES BUSINESS ENTITY BEHIND IT.'
'"ANNOUNCEMENT: WE WILL BE ANNOUNCING SOMETHING SOON"' ANNOUNCES ANNOUNCEMENT DIVISION OF VIDEOGAMES COMPANY.
'"OUR NEW GAME WHICH WE ARE TRYING TO MAKE LOTS OF PEOPLE BUY WILL BE A QUANTUM LEAP IN VISCERAL ACTION"' SAYS MARKETING SPOKESPERSON.'
'BE HERE AT 5PM FOR WHEN A BARRAGE OF ADVERTISING COMMENCES WITH A 1M 12 SECOND VIDEO OF LOGOS AND A MAN WITH A DEEP VOICE SAYING SOMETHING ABOUT WAR.'
'"WE PERHAPS MAYBE SORT OF DIDN'T REALLY TOTALLY DO WHAT WE WOULD POSSIBLY LIKE TO HAVE IDEALLY DONE WITH THE LAST GAME BUT WILL DEFINITELY ABSOLUTELY DO X100 WITH THIS NEW GAME THAT IS ON SALE SOON'" ADMITS A MAN WHO MAKES VIDEOGAMES.
Right, are we the biggest videogame site in the world now? Jolly good.