ToeJam & Earl Gets a Funky New Sequel In 2017
Extraterrestrial hip-hop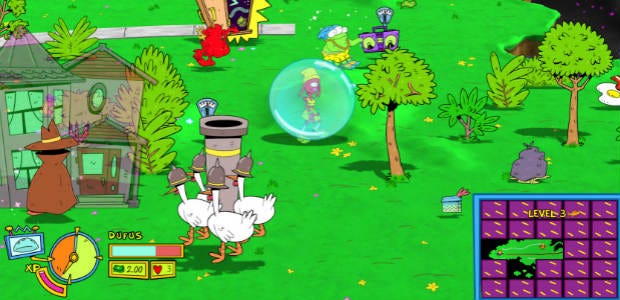 ToeJam & Earl are back for another crack at some old school roguelikelike shenanigans and funky grooves. Aided by a Kickstarter in 2015 and now publishers Adult Swim Games, ToeJam & Earl: Back in the Groove [official site] is due on PC sometime in 2017. Back in the Groove will see the Sega Mega Drive cult classic's stars crash land back on Earth, where they'll have to do their best to fit in with the locals while they try to piece their ship back together.
You can see for yourself how the revival is shaping up in a new, nostalgia-laden teaser released this week.
Back in the Groove boasts randomly generated stacked levels with a bunch of secret locales The game is also getting an expanded soundtrack featuring 13 new tracks alongside 13 familiar favorites. There's good news for folks looking to play in groups, with local and online multiplayer levels for groups of up to four. People playing in co-op mode will have access in the Hyperfunk Zone, with randomly generated levels just for the occasion.
To top it all off, there will be some new goodies as well, although Adult Swim doesn't want to give everything away just yet. Expect new character-specific dialogue, Earthlings, permanent power hats, and co-op features.
ToeJam & Earl: Back in the Groove won't hit Steam until next year, but you can buy the original for £3.99/4,99€/$4.99 if it's a trip down memory lane you're after.