Top 10 PC Games: Steam Vs. Shops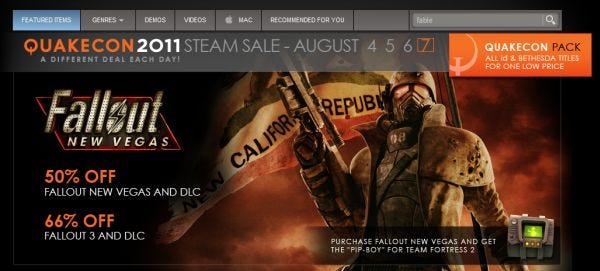 People who go into shops are different from people who go into internets. There's proof. Head below to take a look at the stark difference between the top 10 PC games at retail last week, and the top 10 games on Steam.
Of course, Steam sales make a difference. But here's a thing. Game shops used to have PC sales. Even better, publishers used to deliberately re-release their games after a few months at cheaper prices. It was called budget games. I spent over a decade writing about that for a magazine. But it happens no more, the boxes only ever being lowered in price by the shops themselves, with years-old games still lingering at idiotic tags over £30. Shops: you've got a lot of catching up to do.
So, here's what Shop People have been buying, via Chart Track:
1) THE SIMS 3: GENERATIONS
2) THE SIMS 3
3) FOOTBALL MANAGER 2011
4) THE SIMS: MEDIEVAL
5) THE SIMS 3: LATE NIGHT
6) PORTAL 2
7) THE WITCHER 2: ASSASSINS OF KINGS
8) WORLD OF WARCRAFT: CATACLYSM
9) FABLE III
10) CIVILIZATION V
And here's what Steam people have bought, via Blues:
1) QuakeCon Pack
2) The Elder Scrolls V: Skyrim
3) E.Y.E: Divine Cybermancy
4) Limbo
5) RAGE
6) From Dust
7) BRINK
8) Call of Duty: Black Ops - Annihilation
9) Portal 2
10) Deus Ex: Human Revolution
It's incredible that only one game appears on both lists. Also, that two of Steam's games aren't out for months, and yet are being pre-ordered heavily enough to chart. Also, the Sims.