Grimdark Adventuring: Tormentum Demo
Visually inspired by Dark Souls & H.R. Giger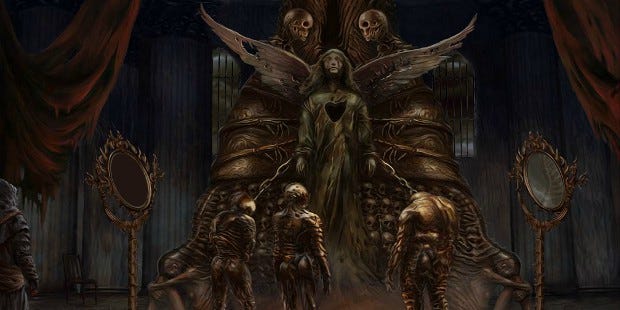 Talk is cheap. You may get people to give your game the old Steam Greenlight within 23 days, but that doesn't mean they'll chip in to raise $9,000 for it. And while you can say you're making a fantasy horror adventure game, that doesn't mean it'll be any good. Hoping to resolve all of this, OhNoo Studio have released a short demo for Tormentum - Dark Sorrow.
It's all grim stone fortresses, torture chambers, ornate sinewy armour, dessicated worshippers, and classic adventure game puzzles--certainly everything I expected. Grab it for Windows or Mac.
The demo's something of a 'greatest hits' of adventure game puzzles: find something to unscrew a panel, arrange a path of gears to turn a mechanism, using a thorny skeletal arm to pluck a crystal eye out a drain--all the classics. Normally I might grumble about this, not the biggest fan of adventure games reusing the same puzzles, but it's so wrapped up in moody nightmarish stuff I was happy enough gazing. The developers list Dark Souls and painters Zdzislaw Beksinski and H.R. Giger among their visual inspirations.
OhNoo are looking for $9,000 on on Indiegogo, which may not seem that much but they're still about three grand short with 15 days left of the 60-day fundathon. Surely it'll reach that?
If downloading a demo is just too much, or you're at work, here's a section of it: