Total War Sagas will spin off specific points of history
Oh, go write a poem about it!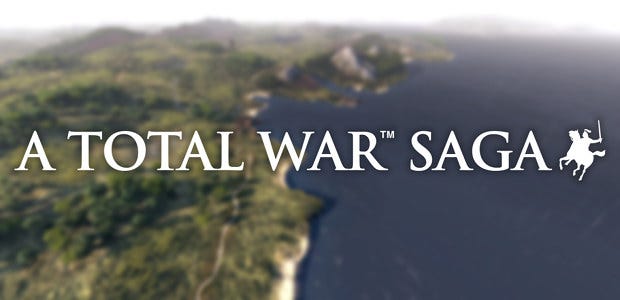 A new branch of Total War games, going under the badge of 'A Total War Saga', will focus the historical strategy action on more specific times and places. Total War devs The Creative Assembly announced the new line today, which will kick off with "another spiritual follow-up" to Total War: Rome II. Total War Sagas will drill down into pivotal moments connected to eras the series has already covered, see, much like 2012's Total War: Shogun 2 - Fall of the Samurai did. They'll play the same but have a tighter focus.
Game director Jack Lusted calls the points that Total War Sagas will focus on "table-flip moments in history, where events are in the balance and could go any number of interesting and unique ways." He explained in the announcement blog post:
"When we talk about games based around these moments in history that lasted months or years, we don't mean short Total War games. They'll have a narrower focus, but they will still be the epic sandboxes players are familiar with. Again, Fall of the Samurai is a perfect example of this. The period covered in that game was compressed down to a few months but a lot happened within those months. Future Total War Saga games may also cover time periods that short where a lot happens, while others may cover conflicts spanning a couple of decades but still focused on a single geographic area.

"To help show the kind of scale we're talking about, the game that I'm currently working on has a map that is comparable in gameplay size to Total War: Attila, but focused on a smaller geographic area, and the campaign will take as long to complete as any other Total War title does. Focusing on a single geographic location in this way allows us to go into greater detail with the period and setting."
Lusted makes clear that Sagas "won't be revolutionary new titles or introduce brand-new eras; they'll follow-on from previous Total War games and inhabit the same time-period, or at the very least relate to it."
The first, he says, is "another spiritual follow-up to Total War: Rome II, like Total War: Attila, and moves the time period forward in much the same way." This game isn't even officially announced yet (marketing, eh?) so no, we don't know when it will launch.
Creative Assembly are crammed full of war these days. Total Warhammer 2 is coming in September, this first Total War Saga will check in on those Romans again, and then after that a new Total War will visit a historical era the series has never seen before. And, of course, they have teams working on DLC and content updates. This recent blog post details all the war-juggling going on.