Total War: Warhammer 2 announced
War! Huh!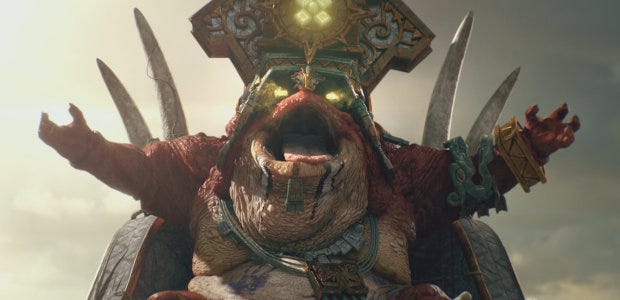 With their business in The Old World concluded, The Creative Assembly have announced Total War: Warhammer II [official site] during EGX Rezzed. The strategy sequel is off to visit the Lizardmen, High Elves, Dark Elves, and another faction being kept secret for now. Interestingly, it'll introduce the risk of enemies beating you not just into the ground but to the final goal too. Get a look at the coming rumble and one delighted froglord (that's Mazdamundi ↑ up there) in this here announcement trailer:
Total Warhammer 2 is off to visit the lands of Lustria, Ulthuan, Naggaroth and the Southlands, and focuses on trouble with the Great Vortex. As an official FAQ explains:
"As the twin-tailed comet of Sotek made its recent journey across the skies, it caused the Vortex to become dangerously unstable. Each of the four races has its own objective regarding this: some wish to heal the Great Vortex and prevent calamity. Others see opportunity in disrupting it. That said, no two races have precisely the same objectives and they'll need to accomplish them in their own way.

"The campaign is therefore a race for control of the Vortex, culminating in a cataclysmic series of endgame events. This is the first TW game where the AI can beat you to the end game objective."
And yes, as promised, Total Warhammer 2 will be able to combine with the first game. A campaign map combining the lands of Twarhammer and Twarhammer 2 will arrive "weeks not months" after launch, for players who own both games - though they will still have the option to play on the original, single-region campaign maps.
Total Warhammer 2 is due some time later this year. A third game will follow.