Reforged: Total War - Warhammer Mod Support
Mod the Old World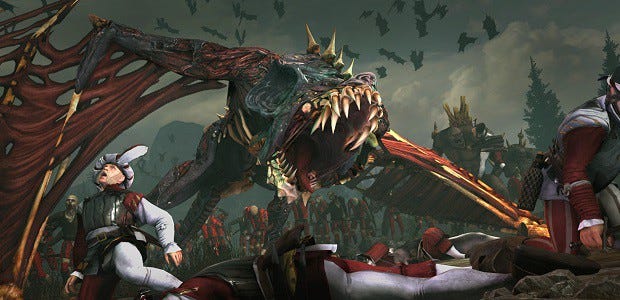 Total War: Warhammer [official site] is so close now that I didn't expect any more announcements that would catch my attention before release, but developers Creative Assembly have just announced that they'll be including robust modding support for their fantasy battler.
Though it was announced previously that the title would not benefit from official mod and Workshop support, CA and Games Workshop have been working away on the paperwork to make this much-demanded fan feature a reality.
At launch, there'll be full Steam Workshop support for browsing and managing mods, as access to the Assembly Kit used in previous Total War titles and "the Database Editor and BOB for modifying and exporting database tables and campaign start positions". Further support, including battle map editing, is planned for later in the year.
As well as those tools for post-launch creativity, there will be mods ready to run on launch day.
Attendees to CA's Mod Summits over the last three years will be supplied early access to the game, to help populate the Steam Workshop from day one. Also, well-known modders Magnar and Dresden will receive specific help from the dev team to produce certain mods. Magnar is designing a Legendary Lord Start Position Mod; customising start positions so that Legendary Lords will start in different locations from Race Leaders, while Dresden is engineering a Regional Occupation Mod; altering the settlement rules to enable each race to settle every region.
Reading between the lines, the lack of modding tools had never been Creative Assembly's intention. When the studio stated that they wouldn't be supporting modding, they did so with reference to the fact that "this isn't just a CA game". The Games Workshop license was the likely hurdle - history is much more malleable than the rules and regulations regarding officially licensed monsters and maps.
This concludes today's Games Workshop news. Unless seven new Warhammer 40k games are announced this afternoon, which doesn't seem unlikely. Alec drew my attention to this list of current and upcoming Games Workshop games just this morning:
Total War: Warhammer (The Creative Assembly)
Warhammer: End Times - Vermintide (Fatshark)
Man O' War: Corsair (Evil Twin Artworks)
Talisman: The Horus Heresy (Nomad Games)
Battlefleet Gothic: Leviathan (Grand Cauldron)
Dark Future: Blood Red States (Auroch Digital)
Warhammer 40,000: Tactical Objectives App (Derp Studios)
Battlefleet Gothic: Armada (Tindalos Interactive, Focus Home Interactive)
Mordheim: City of the Damned (Rogue Factor, Focus Home Interactive)
Blood Bowl 2 (Cyanide Studio, Focus Home Interactive)
Warhammer 40,000: Armageddon - Da Orks (Flashback Games, Slitherine)
Warhammer 40,000: Eternal Crusade (Behaviour Interactive, Bandai Namco Entertainment)
Warhammer: Snotling Fling (Wicked Witch)
If you'd have told me there'd be a game called Snotling Fling before a PC take on Necromunda, I'd have called you a fool. Now who's the fool?