Total Warhammer Beastmen Expansion Announced
Horny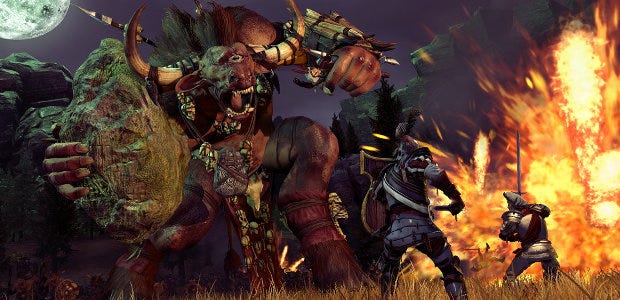 Wedding season is upon us and The Creative Assembly are celebrating with great gusto. Today they announced the first Total Warhammer [official site] campaign expansion will introduce the Bestmen, a new faction who come to get wicked hammered and fornicate then rampage across the continent roaring. Look out, Bruges!
"Alice," you say in that certain tone. "Is this another ha-ha-hilarious intentional misunderstanding?" It's a fair cop, guv. It's actually the Beastmen coming in 'Call of the Beastmen' on July 28th. The rest of that is mostly true, though.
Have a bit of a look at what the Beastmen get up to:
Call of the Beastman brings that horny lot as a playable race to the Grand Campaign, multiplayer modes, and their own new Story Campaign 'An Eye for an Eye'. As for how they'll play, the marketing blurb says:
"With a uniquely aggressive horde-style campaign game, the Beastmen are masters of unconventional warfare both on and off the battlefield. They feature an array of unique gameplay mechanics, including the ability to travel through overgrown Beastpaths to outmanoeuvre unsuspecting foes and, through a dark bond with Morrslieb, the Chaos Moon, perform twisted acts of faith to gain its favour."
Call of the Beastman will arrive via Steam on July 28th, priced at £13.99.
The Bestmen campaign would, of course, be named 'An Oi! for an Oi Oi!'