Tracks - The Train Set Game challenges you to pick up tiny wooden commuters from your furniture
Toot toot!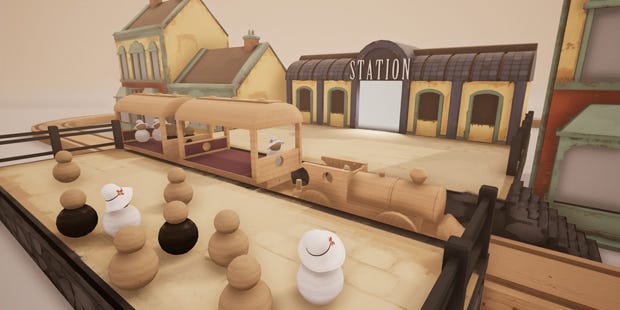 I've been entranced by Tracks - The Train Set Game [official site] - a game about laying a wooden toy train track - since Brendy first brought it to my attention.
Back then it was pretty bare-bones, reminding me of my first Brio set before we got some of the fancier bits like the bridge which would lift up and the level crossing so that our plastic dinosaurs could get past safely. Now there's all manner of fanciness as the devs prepare for the 28 September Tracks early access release including a passenger mode which will have tiny wooden commuters!
"Build your own train sets at will, or enjoy the set game modes which boast a variety of objectives for you to complete. For instance, Tracks challenges you to design a rail system that accommodates passengers' commuting needs. Or transport cargo and build the most efficient rail network to complete objectives in the fastest time possible."
With the addition of passengers trying to get to specific stations the game put me in mind of Alan Hazelden's Cosmic Express, but without the spatial limitations that puzzle game imposes. If you haven't already, I'd say you should check that game out too. I reviewed Cosmic Express and slapped a "recommended" sticker all over it!
[Early access caveats go here. I would type them all out but YOU KNOW WHAT WE THINK.]
Also, I'm considering investing in Brio. Not for inside the house as that would probably get a bit cluttered but maybe coating the pieces in weatherproofing gloop and arranging a Pip Express around the garden to see if I could pick up frogs (hop-ons) or snails or whatnot and take them to their offices elsewhere in the garden.