Treasure Adventure World sets sail on February 7th
A cutie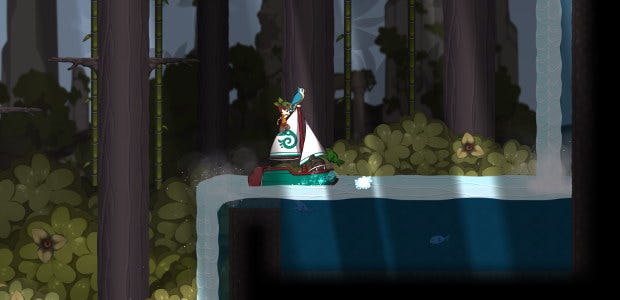 Update: Because I'm braindead this first week, I mistakenly said it's out February 8th. Nope, it's the 7th.
A good five years after we first posted about it, Robit Games' open-world puzzle-platformer Treasure Adventure World will sail out next month. Publishers Chucklefish Games, who also published Stardew Valley and Starbound, today announced that Treasure Adventure World will launch on February 7th. The important bit is: you get to sail around on a boat which can shrink down to fit in your pocket. Also it has exploring, fighting, puzzling, nightclubs, and other cute stuff in this trailer, but I'm mostly in it for the boat. Check out this new trailer:
Ah, boat! And diving from boat. Boat! Apparently the game has a weather system so you'll excuse me if I bob on the waves and watch the rain come and go as you battle bosses or whatever it is you like to do.
This is actually a mega-expanded remake of Robit's Treasure Adventure Game from 2011, which you can still download free. That might give a vague sense of what TAW is up to but obviously the ideas (and art!) have come a long way in seven years, and Robit themselves say TAG has flaws and bugs.
Treasure Adventure World will cost £7/$10 when it arrives on February 7th. Store pages are already up on Steam and GOG.