Trion Worlds Gives The Gift Of Rift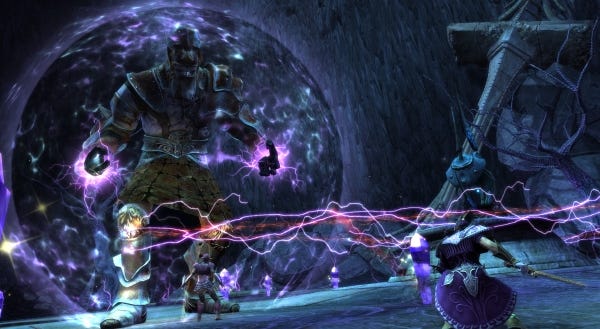 What do you give the man who owns everything but is missing the first 20 levels of Rift? Trion Worlds the makers of the rather good MMO Rift, have the answer for you: Rift Lite gives you unrestricted access to the game's first 20 levels for free. I actually do own everything, so I'm now furious that they've undermined my achievement.

Ooh, look, there's a press release and everything. I have a press release prepped to announce my retirement from collecting everything ever, but you can't have it. That puts me back on top. Nyah!
Trion Worlds, the leading publisher and developer of premium games for the connected era, continues to increase accessibility to their hit MMORPG Rift™ by introducing Rift Lite, a version that allows anyone with a Trion account to experience the game's first 20 levels at no cost and with no playtime restrictions. Rift Lite debuts today with the latest patch, Carnival of the Ascended, which features Ascended Weddings, PvP improvements, the new River of Souls Chronicle, and much more.

"In the past ten months, Rift has evolved at a breakneck pace, through seven massive updates that set new expectations for live MMOs, in features, in content, and in service," said Scott Hartsman, Executive Producer of Rift and Trion's CCO. "We think a Lite edition with no time limit is the best way for players to see what an amazing experience Rift continues to be."

Rift Lite is accessible across all servers to anyone with a Trion account, giving potential Ascended a risk-free opportunity to play the game IGN called the "Best MMO Game" of 2011. Players can create a character and experience the first 20 levels in the plane-besieged world of Telara, working their way through the zones of Terminus, Mathosia, Freemarch, Silverwood, and visiting their faction's capital cities.

In addition to the new trial, Rift 1.7 features many quality of life improvements, including:
· PvP Improvements - Smoother advancement and better rewards

· Ascended Weddings - Share eternity with your soulmate, Telara-style

· River of Souls Chronicle - Undead adventure for two

· New Master Mode Dungeon – Caduceus Rise

· Expert Dungeon Overhaul - More options, better loot!

· Better Endgame Equipment - Improved loot for your endgame Ascended

Today's update marks the initial stage of the Carnival of the Ascended. In a few weeks, the largest and most spectacular World Event Telara has ever witnessed will kick off, celebrating the heroic feats of the Ascended. Amazing in-game events, special loot, and prizes will make the Carnival World Event something that won't be soon forgotten.