Trombone Gun Shooty Blues: Mercenary Kings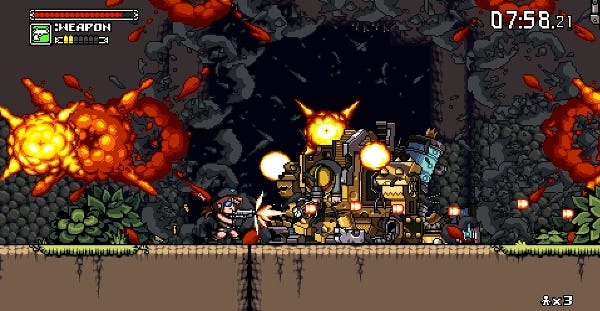 Once upon a time, Tribute developed Scott Pilgrim Vs The World: The Game, and it never came to PC and everyone got sad and died. It's a fairly dismal tale, but a true one. Now, however, our fortunes have flipped, as Tribute's next game - the marvelous looking, equally throwback-y Mercenary Kings - is only coming to PC. At least, for now. It's a co-op-friendly megaton blast of run 'n' 87 bazillion gun action, a fusion of Contra and Borderlands by the looks of it. More importantly, two words: TROMBONE GUN. It's in there, along with oh-so-many more delectable craftables. See them in action after the break.
BOOM BATHOOM RATATATATA [jazzy trombone solo]. That's what I hope this game will sound like. Here is the greatest and best description of Mercenary Kings in the world. It's not just a tribute. (It's also pretty much the only one.)
"In this frantic 2D action game, you are part of the Mercenary Kings, the most skilled team of warriors-for-hire on Earth, but when your comrades have fallen and the fearsome forces of CLAW have seized an island-wide top secret Laboratory Base, you must do what it takes to stop them. But you're not going in unprepared! Your back-up is made of a crew of rogue geniuses and experts of their field! Able to craft & customize guns'n'blades or upgrading body armor, you've never been this ready to join the fight."
Mercenary Kings is hitting Steam Early Access on July 22nd. The side-scrolling shootyblammer is going for just $15 in its unfinished state, which sounds pretty fair. But, as ever, everything might not necessarily, you know, work, so spend wisely.
It looks quite nice, if not spectacularly innovative. I do miss Scott Pilgrim's cotton candy rainbow of a color palette, though. Hopefully other levels offer more than the graybrowns we all fled back to the 16-bit era to escape. But enough from me; I have to start work on my weaponized ska ensemble. What are your thoughts on this one?