Twitch Studio, the platform's entry-level streaming tool, is now available to all
Now I just need to find a compelling personality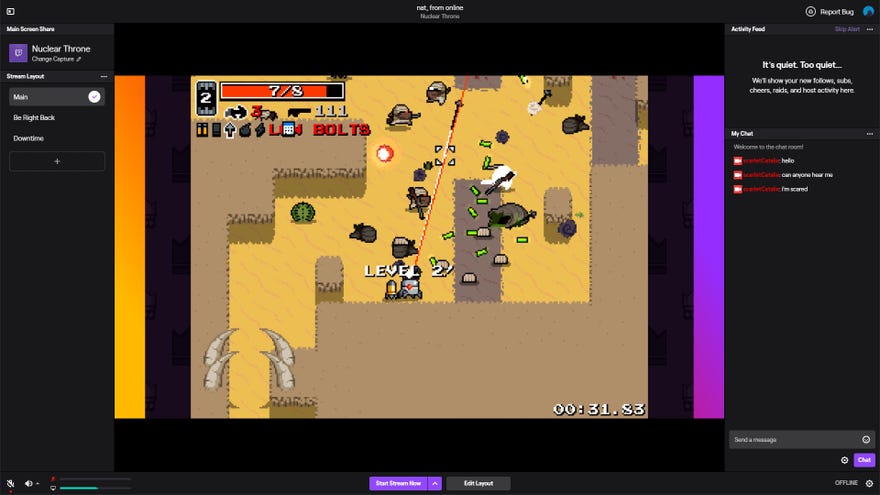 Twitch Studio, the streaming firm's tool for showing folks what you're playing, wants to solve a fundamental issue with streaming. It's bloody hard, is what. While plenty of folks reckon they have the gaming chops of [please put a popular streamer's name here], you've got to reckon with the realities of live video production to really make a dent.
It's a hassle. But after a few months in closed beta, Studio opened up to the public today, offering an alternative for the curious broadcaster who just wants to share some gameplay with their mates.
There are plenty of options out there for a budding streamer, but very few are particularly user-friendly. As it happens, outputting live video and audio is a complicated process, and requires a little bit of technical know-how.
Naturally, Twitch want people broadcasting on their platform with as little friction as possible. Rather than faffing about with dozens of settings, Studio automatically configures your camera, microphone, resolution and bitrate. It's pegged as a tool for beginners who want to get their channel off the ground without too much commitment, guiding you through a very quick setup process.
And you know what? It works fair enough. I gave it a wee download while writing this post, and five minutes later I was streaming Nuclear Throne with only a few hitches (even those were mostly due to my rubbish PC). The Studio window also keeps you filled in with updates and chat messages, which I imagine is great if you have viewers. Or friends.
It's not a long-term solution if you're trying to make it big on the Fortnite circuit. But if you're only starting to try out this streaming lark or just want to share some nonsense with pals, it's a nice alternative. Now that Twitch has an official, easy-to-use streaming kit, there'll be far more would-be broadcasters trying their luck at internet fame.
Twitch Studio can be downloaded for free here. Now you've simply got to become an entertaining presenter. Simple, right?