Two Rue Dudes: Gemini Rue Released, Demo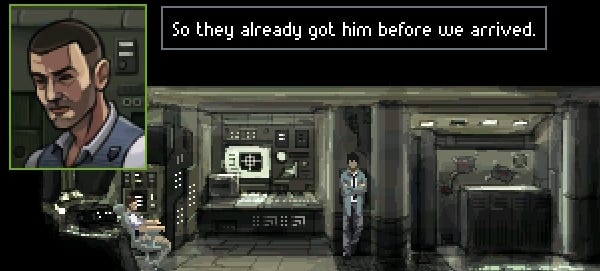 And there's the hat-trick of top class indie releases! IGF Student Showcase winner and dark sci-fi adventure game Gemini Rue (previously Boryokudan Rue) will be released today, and a demo has just come out allowing you to sample its rainy, future-noir flavour. The game proper is available from the Wadjet Eye site and the demo is being hosted over on Gamefront here. I'll be posting some impressions the moment I dig myself out from under this pile of games. At this point I can't even tell where I end and the games begin. Watch Gemini Rue's badass trailer (again), plus pt. 1 of a walkthrough of the demo (new!) and read a brief plot synopsis after the jump.

You can waggle your eyebrows at the game's range of voice actors here, too.
Azriel Odin, ex-assassin, arrives on the rain-drenched planet of Barracus to find someone. When things go horribly wrong, he can only seek help from the very criminals he used to work for.

Meanwhile, across the galaxy, a man called Delta-Six wakes up in a hospital with no memory. Without knowing where to turn or who to trust, he vows to escape before he loses his identity completely.

As fate brings these two men closer together, we discover a world where life is cheap, identities are bought and sold, and a simple quest for redemption can change the fate of a whole galaxy.