Tyranny: Bastard's Wound due later this year
What did you call me!?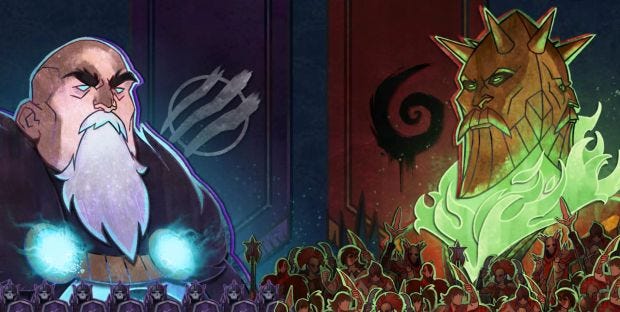 Tee hee hee. They said a rude word in their videogame title. Isometric RPG of evil-doers Tyranny [official site] will be getting an expansion "later this year", say developers Obsidian. Tyranny: Bastard's Wound (tee hee) will take players to a new settlement and offer new companion quests and other storylines. Meanwhile, a free update is separately bringing some more stuff to the game's third act and an "all new path to an unseen ending". Anyway, you can find the trailer for the expansion below.

That's it!? A lamp and an old head? Oh well. I haven't played Tyranny, but some sleuthing (ie. scrolling through comments and consulting wiki) suggests that the head might be the helmet of Barik, a character who is trapped inside his own armour, meaning he has somehow freed himself from it. And that may or may not be backed up by Obsidian's own description of the upcoming expansion:
During this quest, the player will encounter Bastard's Wound, a settlement and refuge from the dark, war-torn world, established in secret as a haven for those fleeing the wrath of Kyros the Overlord. The player must decide what is to become of the inhabitants as they mete out Kyros' justice.

Featuring new characters and storylines, Bastard's Wound takes a closer look at the race of the Beastmen, the fate of the refugee settlements, and all-new companion quests featuring three of Tyranny's most memorable party members: Verse, Barik, and Lantry.
On top of this, Obsidian have today released a new event pack called Tales from the Tiers, which has new quests, featuring "the untold stories of the many inhabitants of the hazardous, war-torn Tiers, including rebels, merchants, servants of Kyros, and even dangerous creatures". It'll take £4.49/$6.99 from your hard-earned moneypot.
Like I say, I haven't played the base game, mostly because I lack the patience for getting carpet bombed with words in these old-fashioned isometric misadventures. But John said the tale was mostly enjoyable in his Tyranny review, even while finding the combat tedious and describing it as massive yet shallow. He also murdered a baby in it, though, so I don't know if you can trust him.