Save up to 75% on Ubisoft's biggest games in their week-long Legendary Sale
Ubi mad to miss it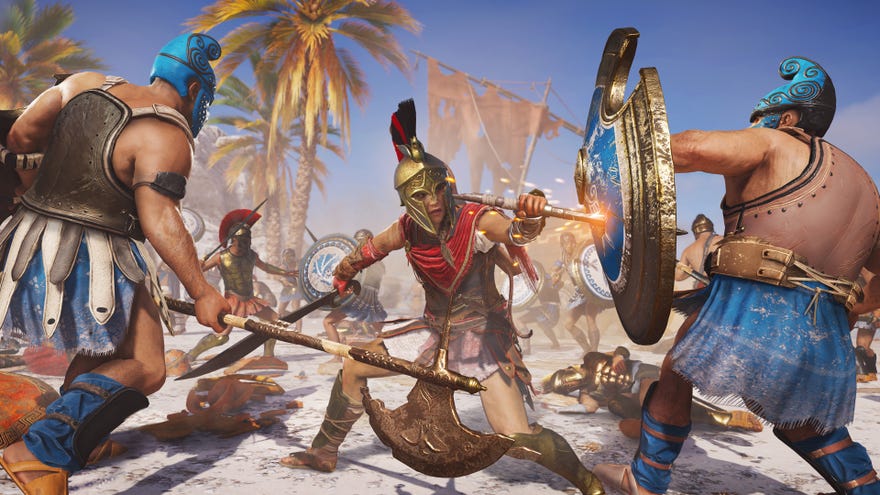 Good news for readers that pay in US dollars rather than pounds: Ubisoft are having a pretty comprehensive sale on their big hitting titles over on their US store right now, including 67% off Assassin's Creed Odyssey and The Division 2, and a whopping 75% off Far Cry 5.
There's plenty to see in Ubisoft's Legendary Sale, and you can browse the whole lot by clicking that link. There are 108 games and accompanying DLC being discounted until June 1st, though that obviously includes a lot of duplicates and special editions. If you fancy developing a Rainbow Six Siege addiction, for example, you can buy the regular edition for $8, but you could also get it in Deluxe ($9), Gold ($30), or Ultimate ($49) flavours.
Assassin's Creed Odyssey is equally blessed/cursed (delete as applicable to you) when it comes to discounted special editions. The base game is down 67% to $19.80, but you can also get a Gold edition with the season pass for $33.00, which isn't bad when said pass costs $20 on its own. A somewhat overkill Ultimate edition is also available for $39.60 if you really want to push the boat out, which also includes all the stuff from the deluxe version in addition to the season pass.
Every Far Cry game from 3 onwards is included in the sale, too. For completeness sake, that means you can get Far Cry 3 or 4 for $12, Far Cry: Blood Dragon for $6, Far Cry: Primal for $7, Far Cry 5 for $15 or Far Cry: New Dawn for $16. That's a whole lot of Far Cry for a cumulative 56 bucks, though you can spend more if you fancy DLC-packed versions.
Other games worth a look – again, all with pricier deluxe packs available if you fancy some DLC alongside the main game: Anno 1800 ($30), Ghost Recon Breakpoint ($20), The Division 2 ($10), Watch Dogs 2 ($15), The Crew 2 ($13), For Honor ($10), Trackmania Turbo ($20) and Trials Rising ($10).
Alas, there aren't any discounts on Ubisoft's upcoming games yet, such as Assassin's Creed Valhalla, so anyone hoping to nab that $120 ultimate edition or $200 collector's edition with the fancy female Eivor statue looking fierce on the cheap will have to wait for an even more legendary sale before that becomes a reality.
Still, if it's older Ubisoft games you're after, go forth and fill yer boots.