Undeyeing: Team Fortress 2 Halloween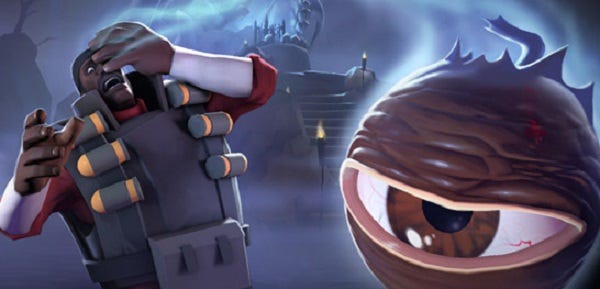 Team Fortress 2's sinewy neck of content has been slashed open once more, pumping forth a bloody torrent of hats and features. It's the third annual Halloween update, and it brings full-body costumes for every class (including a fantastic "teleporter gone wrong" Brundlefly for the Engineer), an update for classic King of the Hill map Viaduct turning it into Eyeaduct, which features dimension-jumping slipgates and a spooktacular boss fight with the Demoman's demon-posessed eyeball, and finally another superb Halloween-themed comic book depicting the origins of said demon eyeball. It's all still Free to Play of course, with the new costume items being found randomly throughout the map or available to buy immediately in the MannCo store. A short demonstration of the boss battle is after the jump.
A couple of things to note about his commentary: the final stage of picking up the Bombinomicon isn't first come, first served; rather, all the players who reach that stage can pick it up and and gain the achievement co-operatively. Also, any class can wear the Monoculous hat, not just the Demoman.
Does the TF2 team ever get any sleep? I do wonder if they'll be able to sleep soundly in their beds after this, as they've also made it so that any of those gasp-inducingly expensive Unusual hats uncrated during this period will have a special Halloween-themed effect, one that can't be found again after the event ends on November 6th. I don't dare to guess at how many buds, Maxs and Bills one of those collection of pixels will eventually go for.