Racey: Age Of Empires Online "Skirmish"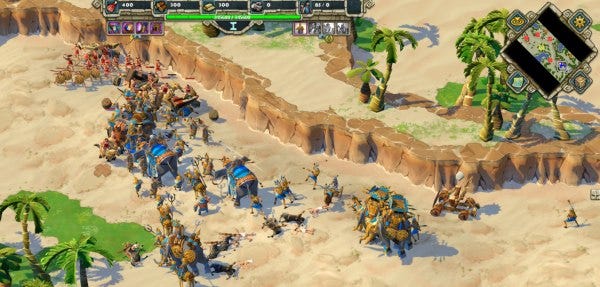 You might remember that our Brendy thought free-to-play strategy Age Of Empires Online was a bit of alright, but he was a bit uncomfortable with the general "having other people in it" sort of feel. Of course that's not stopped the seventy bajillion people who did sign up, and some of those probably even spent money on it. They're going to have a new option for spending money this month because there's a new bolt-on expansion called the "Skirmish Pack" (enthusiastically trailered below) which will, surprisingly, unlock all the races in the game (although not level you up to unlock all content) and allow you to customise all starting conditions for your game, allowing you to taste all the possible options for Empire-building.
I'm going to speculate that this is going to cost about £5, although there doesn't seem to be a price announced for it yet. Ooh, we should totally run a sweepstake on which RTS will go F2P next!