Unlevel Crossing: The Bridge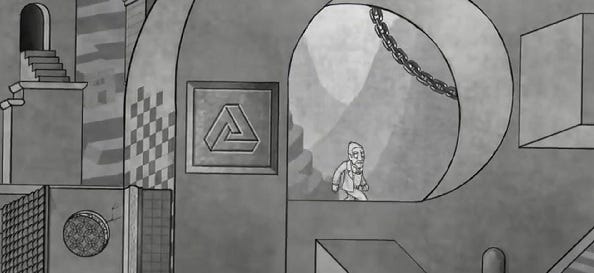 I missed this video for The Bridge during my roundup of the most interesting IndieCade finalists and I'm sorry that I did, which is why I'm going to share it now. There's not a lot of information on the game yet, not even a website, but I think it's safe to say it will have a bit in common with And Yet It Moves. The trailer shows that the game world rotates and then frames the device rather poetically: "The world is much larger when every wall is a floor…" I'm already smitten by the Eschery design and you can be too by watching the trailer, right here. Thanks to Indie Games for bringing my attention to this one.
There may well be a great deal of imaginative puzzle design to go with the style but right now, the style's all we really have to go off. But what style it is. Fans of melancholia and monochrome solitude must be rejoicing the world over.
IndieCade kicks off October 6th so hopefully that week will bring more details on this and some of the other delicacies on offer. My eyes shall be peeled.