Valve pull support from major Philippines Dota 2 tournament, citing privacy concerns
Connected to drug tests?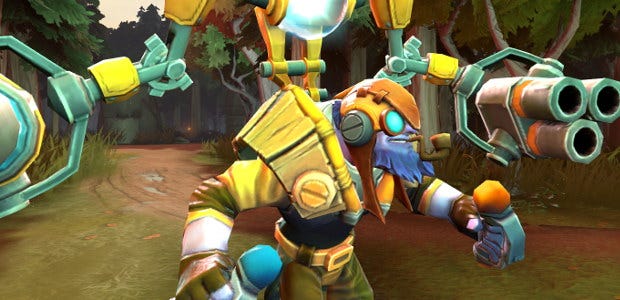 Valve have stopped supporting an upcoming Dota 2 tournament over concerns that the Philippines government would make "unreasonable infringements on the privacy" of players entering the country. Valve don't elaborate on why they're dropping the Galaxy Battles 2018 tourney, which was due to run January 15-21, but it seems mandatory government drug testing for esports players is likely to blame. The tournament might continue in some form, but it would be without Valve, not as an official 'Major' on the Dota Pro Circuit, and not with all the teams.
Valve said in last night's announcement:
"Based on information we've recently confirmed regarding new government regulations for esports players entering the Philippines, we have decided to rescind the tournament's Major designation, including the Pro Circuit qualifying points, for the Galaxy Battles 2018 tournament. This is based on what we feel are unreasonable infringements on the privacy of the players, as a condition to enter the country."
Valve don't explain which government regulations they object to, but it seems likely it's drug testing.
In 2017, the Philippines started recognising esports players as athletes and granting them licenses, bringing them under the authority of the Games and Amusements Board (GAB). The GAB mandates drug testing for licensed players, looking for use of marijuana and methamphetamine. Both of these, you'll note, are legal in some places and in some forms.
Paolo Bago, an esports journalist from the Philippines, has shared a statement from the GAB which shows they think Valve are objecting to the drug testing. GAB say they were willing to slightly loosen their rules for Galaxy Battles 2018, letting the organisers submit results from drug tests taken in their own country. However, this would still seem a privacy concern, for requiring testing in the first place and then for essentially 'outing' players if they proved unable to play in the tournament.
While I haven't heard much about methamphetamine in esports, the ADHD drug Adderall--a different form of amphetamine--has been reported as commonly abused by players seeking an advantage. But if there's anything I learned about playing Dota with stoned randos over the years, it's that marijuana largely makes people late to team fights and prone to singing Basshunter.
This isn't just some whim of the GAB. The Philippines has aggressive anti-drug laws, including the death penalty for people convicted of trafficking. The country's bloody ongoing 'war on drugs' saw police and vigilantes kill an estimated 12,000 people, including children, during 14 months of it. Amnesty International have reported on extrajudicial executions by police against unarmed people or people who surrendered, as well as theft, beatings, and more. The president of the Philippines, Rodrigo Duterte, has encouraged vigilantism and said in 2016, "If you know of any addicts, go ahead and kill them yourself as getting their parents to do it would be too painful."
The GAB isn't the only body testing for drugs in esports, mind. The ESL, a major multi-game esports organisation, introduced random drug tests in 2015.
Valve say their decision to rescind the Major status "isn't a reflection on how we feel about fans in the Philippines, and we are sorry for those that were planning on attending the event."
Russian Dota 2 team Virtus.pro have already pulled out of the tournament and rumour says several others will follow. If Galaxy Battles does go ahead, it won't be the same.
Valve say they're talking with tournament organisers to try to find a way to run another Major with the same teams. This would give them another chance to fight over the Pro Tour Points that help determine who gets to play in The International, Valve's big annual multi-million-dollar tournament.