Dontnod's Vampyr rising in November
Suck on this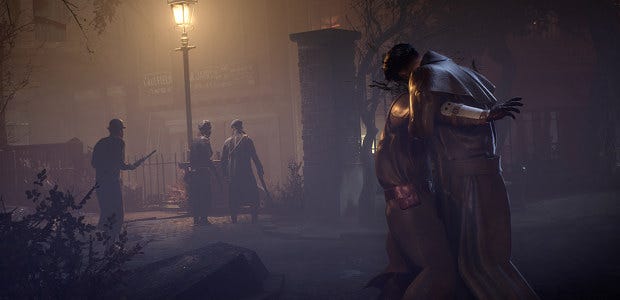 After Dontnod Entertainment announced a second Life Is Strange, I did half-forget that they're making another game. They are! Vampyr [official site] is an action-RPG with a bloodsucker skulking around London in 1918, tangled up in secret societies, monsterfights, and other undead antics. Supposedly there will be consequences to who we choose to snack on, though it's definitely more along the lines of Dontnod's face-punching Remember Me than Life Is Strange's story-o-rama.
Now publisher Focus Home Interactive have announced that Vampyr will launch some time in November 2017, and for now have popped out the obligatory E3 trailer.
As is the way with E3 trailers, it's more a music video ('Devil' by Ida Maria, if you're asking) than anything informative. Let's see if the marketing blurb can explain anything:
"You are Dr. Jonathan Reid, a famous surgeon home from the Great War and recently turned into a vampire against your own will. As a doctor, you have taken an oath to save lives and take care of the sick. As a vampire, you are cursed to hunt those you vowed to heal.

"To survive against deadly foes roaming the streets – vampire hunters, undead Skals and other monstrosities – you will need to choose which civilians to feed on, so you can grow stronger and evolve your vampiric abilities. Use your unholy powers to manipulate and delve into the lives of those around you – but be prepared to live with the consequences of your actions. A web of interconnected citizens with unique lives and relationships react to your decisions, and killing just one may cause the downfall of an entire city district. Your actions will save or doom London."
Alrighty then!