Wolfenstein Announcement Bingo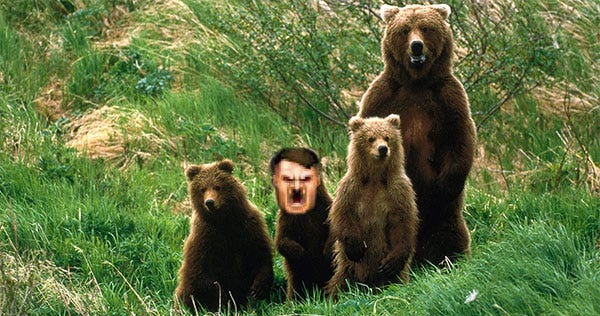 Word on the grapevine (Twitter) has it that there'll be some big, noisy game announcement at 2pm, but at the time of writing I have no idea what it would be because no-one tells me anything. Probably because RPS has insulted pretty much everyone by now, but oh well. In the aim of providing vaguely timely news, I have pre-written the below post ready to have relevant keywords inserted and/or removed once I find out what the game in question is. Let's see how well I do! Edit - nailed it.
[GAME NAME]WOLFENSTEIN: THE NEW ORDER is a REMAKE/SEQUEL/REBOOT/RIVAL/
HOMAGE OF/TO [OLD GAME NAME] WOLFENSTEIN 3D, developed by [COMPANY NAME] MACHINE GAMES and to be published by [COMPANY NAME] BETHESDA.

It will be available on CONSOLES THAT NO-ONE OWNS YET/HOPEFULLY PC TOO/THE OLD CONSOLES. It has ALIENS/ZOMBIES/NAZIS/FOREIGNERS/ROBOTS/MISCELLANEOUS
MONSTERS in it. It will be out in 2013/2014/2015/WHEN IT'S READY.
[THIS SPACE TO BE FILLED BY STUFF, ONCE I KNOW STUFF.]
Games journalism.
Edit: It's by MachineGames, some of whom were formerly the Starbreeze team who made Riddick. "Wolfenstein: The New Order is scheduled for release on Xbox 360® video game and entertainment system from Microsoft, PlayStation®3 computer entertainment system, PC, and next generation consoles." It is a first-person shooter. No shit.
Edit 2: Reveal trailer and stuff on Gamespot. "The New Order is set in 1960 after the Nazis won World War II. Gamers play as the familiar American war hero B.J. Blazkowicz and are tasked with launching an "impossible counter-offensive" against the Nazi powers that have taken over the world. Set in Europe, The New Order will have players infiltrating Nazi strongholds and battling legions of enemies, while taking control of "super weapons" that the Nazis have used to dominate earth--"and beyond," Bethesda teased".
Edit 3: Ooh, embed code
Late 2013, on PC and stuff.