Viewtiful Robo: Cobalt Shows Slow-Mo, Level Editor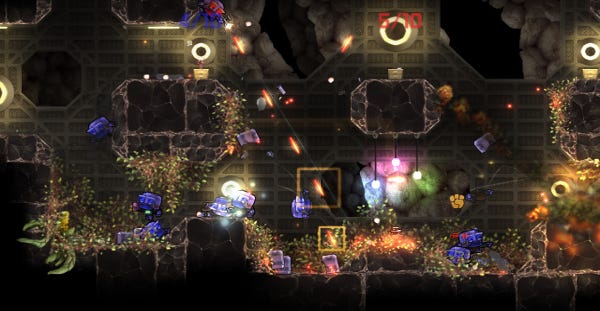 Mojang may or may not be going forward with its plan to become some kind of indie developer/publisher mega-hybrid, but 2D robo-biffer Cobalt's still hopping, bopping, and blasting along in the background. Adam took the Oxeye-developed arena shooter for a spin many of our pitiful human days ago, but it's come quite a long way since then. Or at least, I assume so. Otherwise, it'd be out of line with Nathan's Grand Unified Theory Of Linear Chronological Progression - "When time passes, stuff happens" - and it hasn't failed me yet. So now, for your obsessively dissecting pleasure, here's a new video of Cobalt in action.
Robots shooting other robots! What will they think of next? Honestly, though, it looks like a simple concept that - if executed well - could really force players to get their strategic gears churning. Easy to learn, hard to master, etc. Also, the slow-mo rocket avoidance bits remind me of console cult hit Viewtiful Joe, which is the most mathematically mighty of pluses in my book. The level editor looks fairly robust as well, though time-lapse videos of these things never really tell me if they're compatible with my withered, weeping dandelion of a brain.
Cobalt's still in alpha, as it has been for the past 74 years. Preordering grants you immediate access, though, so you need not deny your craving for adorable roly poly robots any longer. The latest update, v116, introduces the solo-friendly Challenge mode, too, so you can continue to deny your craving for friends and human connection. Apparently, it's been designed to "convey a sense of completion and progress," but without the required commitment of, say, Survival or regular multiplayer. So hooray for that.
There's also a laundry list of other additions and changes, including snow, ice, and icicles (!). Alternate headline pun: Elements In Cobalt? Snow Problem.