Viscera Cleanup Detail Now Swabbing Steam Early Access
Clean up a space marine's mess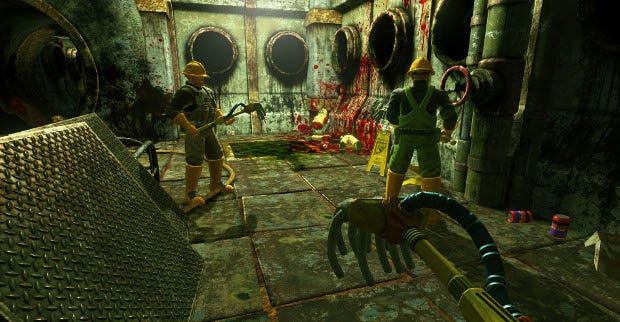 Casting players as space-janitors cleaning up after an alien attack, Viscera Cleanup Detail is pretty great as one-note wacky physics sim jokes go. Now let's go one step further. Imagine playing as the dying lab technician without whom the space marine hero would be lost. Dragging useless gnawed legs behind her, she leaves diary entries hinting at puzzle solutions, scrawls cryptic warnings in her own blood, and plants supplies. Stack chairs and crates to reach odd hiding spots, hunt down iron tablets to top up her blood ink, and sacrifice everything to ensure that bumbling dolt triumphs. An idea for me to make in the next Peter Molydeux game jam, perhaps. Anyway.
For those who insist upon only buying games on Steam, keeping their games library as tidy as their space station, Viscera Cleanup Detail is now on Steam Early Access.
Runestorm has offered VCD beta access to pre-orderers for some time now, of course, but the idea of buying a game outside is Steam is as terrifying as a many-mouthed spacemonster to many. So look, you weirdos, it's now on Steam Early Access for £5.59, coming complete with the Santa and Shadow Warrior-themed spinoffs. Co-op, new levels, and extra cleanup tools have been added since the early free prototypes.