Visible City: Thief Out February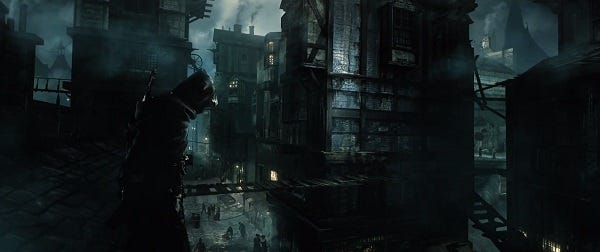 Thief is a slippery game. When it finally revealed itself, the results were impressive, although I found cause for concern in the City's lack of character and the potentially staged nature of several encounters. Then there was news of disturbances during development, not altogether surprising considering the length of the job and the size of the team. It was when Nathan played the game and reported back that hope sputtered like the torches in Bafford's mansion. Today, I'm as surprised as could be that a trailer, with no in-game footage, has restored some confidence and interest. The depiction of class warfare is far from subtle, but there are images reminiscent of the earlier games' cutscenes, and the City looks recognisably magnificent. Also, release may not be as far off as I'd suspected.
Garrett's voice still conveys too much of the reluctant hero rather than the amused, and eventually overwhelmed, cynic. It's all well and good if he learns the value of a couple of things, but not the value of standing up for the little guy, please? As I see it, Garrett's world is too ugly and corrupt (in every sense) to reward heroes, and he's too smart to do anything that isn't rewarding. Not a bad person, by the standards that the City sets, but not one for intentional sacrifice, knowing that death is never more than a footstep away.
But The City. The old place looks as good as it has in years and, whatever my misgivings, I can't deny that seeing it again makes me want to go exploring.
Then there's that release date. February 25th. Still a long way off but all I'd ever heard was 2014 and I'd started to assume it'd be summer at the earliest.