Wadjet Eye Going Post-Apocalyptic With Shardlight
Wadja believe it?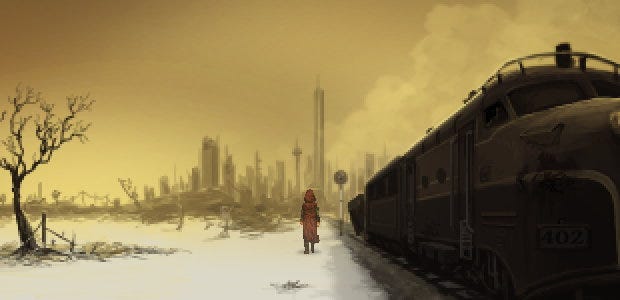 Hullo, sorry, me again, on my final round of clearing up left-over newsbits from when I was on holiday. Such as: the fine folks of Wadjet Eye announced their next lo-fi adventure game, Shardlight [official site]. Set in a plague-ridden post-apocalyptic land, Shardlight will see an infected lady trying to find a cure, maybe taking on the shadowy government, and maybe saving herself. Spring 2016 is when you should expect it.
Wadjet Eye explain the premise thusly:
"The world ended on the day the bombs fell. Since then, it's always been like this: disease, hunger, death. The ruling Aristocrats — a faceless oligarchy that controls all resources — have unchallenged authority. There's never enough food, water, or vaccine to go around. The rich receive regular doses of vaccinations in exchange for their unconditional government support. The poor live in fear, superstition, and squalor until they die.

"Amy Wellard, a young woman reluctantly working for the government to qualify for the vaccine lottery, believes there's a cure — and she's going to find it. Even if it costs her her life."
Beyond that... well, it's an adventure game - clicking on things, solving puzzles, talking to folks. If you've played the Blackwell games or The Shivah you'll get what Wadjet Eye and founder Dave Gilbert are about. If not, you can click on those links and they'll take you to reviews. Handy, eh? This one is developed by Wadjet Eye, by the way, not just published; I point this out only because I see folks often miss that Wadjet publish other folks' games as well as making their own.
Anyway! Have yourself the first trailer for Shardlight: