Warframe to add hoverboards, seamless spaceship battles
The big news from TennoCon 2018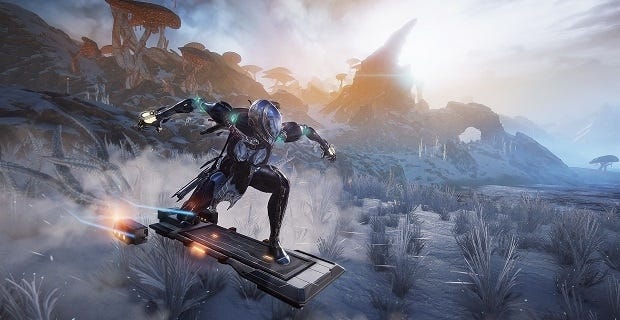 Warframe, the cooperative shoot-and-loot space ninja game, is about to get more of all of the above. Developer Digital Extremes announced an all-new open-world zone - purportedly five times bigger than the Plains of Eidolon - at the third annual TennoCon. But the most exciting announcement came at the end of the Warframe-centric convention. Code named "Railjack," the free expansion will let 1-4 players pile into a spaceship and seamlessly take their battle to the stars.
Once airborne, squads must cooperate to manage shields, repairs, and weapons while engaging in ship-to-ship combat. It sounds a lot like No Man's Sky meets Star Trek. Except that players can also board enemy ships using Archwings (Warframe's jetpack equivalent). In theory, Railjack marries the free-to-player shooter's many styles of gameplay into one cohesive whole.
That new open zone also sounds promising. Fortuna, as its called, is set on an icy and mushroom infested Venus. Warframers will travel there to aid Solaris United - a group of indentured servants for whom failing to pay crippling debts means forfeiting body parts. It's a gruesome situation, but the workers make the most of it with some really catchy whistling. And if you're especially nice they'll give you a slick hoverboard, Warframe's first-ever usable land vehicle, to traverse the frozen world.
Other announcements included Garuda, a new Warframe sporting powers based on "blood and gore," and a teaser for the game's next cinematic quest. The chapter is called The New War and follows the events of June's The Sacrifice update.
Fortuna is currently scheduled for release this fall... maybe. Digital Extremes was openly wishy-washy about the specifics. Although the company seemed set on getting it out sometime this year.