Wargaming buy Fractured Space devs Edge Case
Mysterious!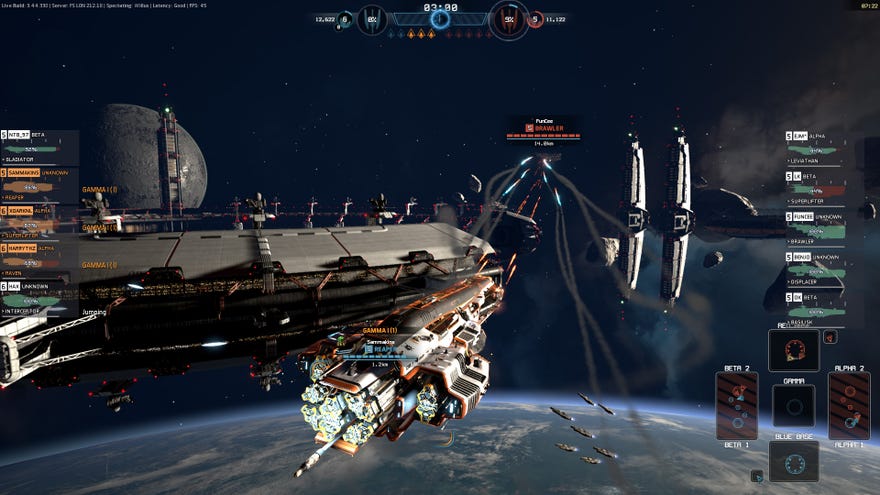 Free-to-play warcompany Wargaming (they of Worlds Of Tanks, Warships, and Warplanes) have bought Edge Case Games, the English studio behind spaceship MOBA Fractured Space. The 32-person team will join Wargaming UK office in Guildford to work with them on "an unannounced MMO project." Mysterious!
"We are very excited to become part of the world-renowned Wargaming, creating an expanding studio in Guildford," Edge Case CEO James Brooksby said in today's announcement. "We have built a great team with lots of relevant experience, who can't wait to get their teeth into starting work on a big new ambitious game backed by the might of Wargaming."
Edge Case were already based in Guildford, so it's not a big move.
Wargaming say they're glad to pick up a studio with F2P and Unreal Engine experience. Wargaming UK are still a new studio and small-ish, though they are still hiring.
Enemy Territory developers Splash Damage, another UK crew, are also working on something with Wargaming. It might be the same MMO, it might be something different... we don't know what it is.
Edge Case announced last month that they're ending development of Fractured Space, though the game is still running and has been stripped of microtransactions. You can play it through Steam.
Our Brendy was quite a fan, calling it "a MOBA in a non-cutesy, non-fantasy setting, with just enough respect for the genre's tradition while having the courage to keep things slow, uncomplicated and strategic" in his Fractured Space review.