Warren Spector's Scrapped Half-Life 2 Episode
The episode that never was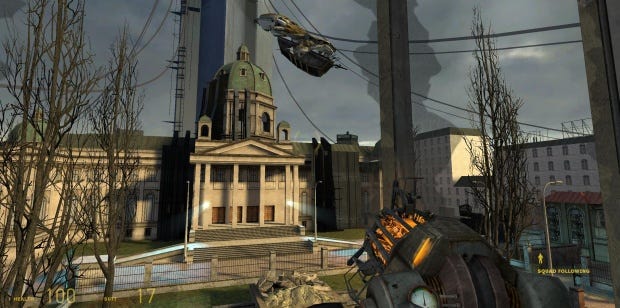 Today in News You Should Probably Be Glad You Never Heard About At The Time Because You're Already Disappointed Enough And This Would've Been Frustrating And Yeah I Guess You Would've Written A Lot Of Annoyed Comments On The Internet And TBH Neither You Nor I Want That But Boy, What If This Had Happened: Deus Ex director Warren Spector and his (now-closed) studio Junction Point were at one point working on a Half-Life game.
The mystery game would've been a Half-Life 2 episode separate from Valve's own core episodes, introducing a new physics-y magnet gun. But it was not to be, and Junction Point went on to focus on Epic Mickey instead.
This first came to light in a recent interview with Game Informer. Spector said that they started concepting the game at a time when Junction point was struggling to land work, and "Valve actually stepped in and saved us, frankly." He explained the premise and the problem:
"[Valve] was really into episodic content at that point. We were working on an episode that would fill in one of the gaps in the Half-Life story. So we were trying to flesh out a specific part of the world of Half-Life and we created a new tool. A thing we elegantly called the magnet gun, which I still wish they would do something with. We came up with so many cool ways to use a magnet gun that were completely different from anything [Valve] had done and was really freeform in its use. I still think it'd be cool, but when the deal with Disney really started to bear fruit, I just couldn't say no to Disney. I'd always wanted to work there, so we never completed the work with Valve."
He expanded a little in an 'Ask Me Anything' session on Reddit on Friday:
"Junction Point had a project cancelled (we can talk about that, too, if you want). There was no money. Basically, Valve came in like a white knight and offered us some work on a Half Life episode set in a part of the Half Life universe that hadn't been explored deeply. In addition, just because my team couldn't just do anything the easy way, we decided to add a new tool to the Half Life universe - the magnet gun. We came up with some COOL stuff to do with the magnet gun. Valve decided to move in another direction but I still wish they'd do something with the magnet gun. It was fun."
He also noted the Magnet Gun was a separate weapon from the gravity gun, and "the two would have been super complementary." Oh, the physics puzzles we'll never get to solve! And I do wonder that that unexplored corner of the HL universe was. Commenter speculatron: activate!
Though speaking of new gravity guns, a pretty neat-o one came recently in HL2 mod Transmissions: Element 120, letting folks rocket jump around with concussive blasts. It's worth a play, that one.