Warriors Orochi 4 set to mangle history on PC in October
Probably not historically accurate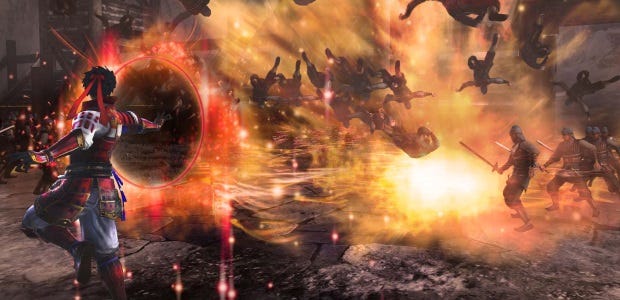 Let us all forget, for a moment, the unmitigated disaster that was Dynasty Warriors 9 and remember a better time. A time when musou games (as they're known) were simple, cathartic affairs where one hero gets to beat up hundreds (if not thousands) of foes in a single brawl, all without any of that tedious open-world fluff. Well, Warriors Orochi 4 looks to be going back to those good old days, and for the first time since 2008 is bringing this particular mash-up crossover series to PC.
As is standard for the Orochi side-series, this game is an elaborate excuse to have a silly number of Japanese and Chinese heroes and villains from different eras of history throw down, and possibly beat up a few demons while they're at it. Both Samurai and Dynasty Warriors are being tapped for characters, so if you ever wondered if Nobunaga Oda was a bad enough dude to pursue Lu Bu, now's your chance to find out.
So, we've got pretty much the entire combined casts of both series', plus a few extra characters, like... Zeus, Olympian god of thunder. Presumably he's couch-surfing with some friends in the east after that whole God Of War thing, and will probably go back home after it blows over. For the time being, he's bringing a little more magic and myth to this crossover, including an all-new magic system that appears to allow for some really big explosive attacks.
While I'm not worried as to whether Warriors Orochi 4 will be mindless popcorn fun, I do have some business and tech-related concerns. Koei Tecmo's recent PC ports have been a patchy lot, ranging from 'pretty okay, after an update or two' (see Nioh) to 'a bit of a trainwreck' (Dynasty Warriors 9 again, although admittedly that ran terribly on consoles, too), so that's one concern. Another is pricing - Koei Tecmo tend to price high and discount infrequently, often bulking that up further with DLC.
Warriors Orochi 4 will be hitting PC this October 16th, and you can wishlist it on Steam here. In the meantime, might I recommend fans of beating up thousands of dudes at once check out One Piece Pirate Warriors 3, and those wanting a slightly more involved and technical combat engine look at Dragon Quest Heroes 2, my two favourite musou games in recent years.