Best MG82 loadout and class setup in Call of Duty: Warzone
The top MG 82 loadout in Call of Duty Warzone.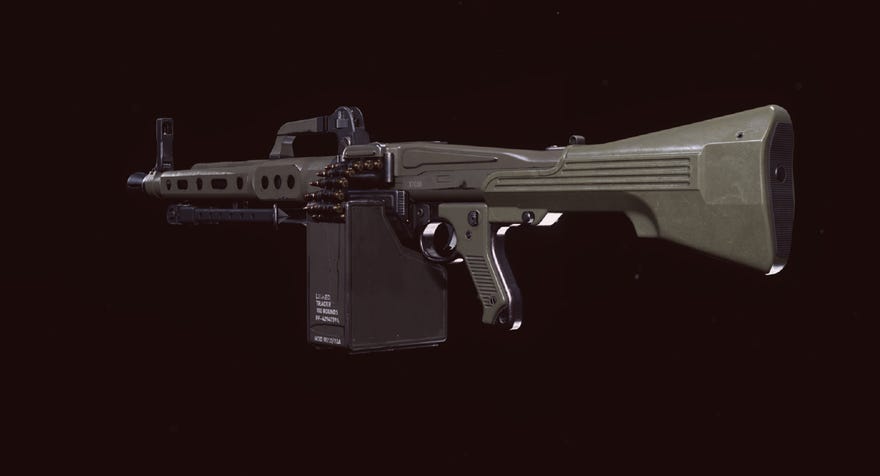 Want to know the best MG82 loadout in Warzone? The MG82, added in the Season Four update, is hitting all the right spots to be a very powerful Warzone Pacific gun. It's fast-firing, deals consistent damage, and causes real problems for your enemies if you catch them in the open. It was slept on a bit after a nerf in early Season 4, but this is one of the best guns in Warzone. Our guide will walk you through the best attachments to take over Verdansk and Rebirth Island with the MG82.
Best MG82 loadout in Warzone
This is a fantastic MG82 loadout for the purposes of shredding foes at long ranges. It's powerful, forgiving, and - once you get the hang of the recoil - surprisingly easy to use:
Muzzle: Agency Suppressor
Barrel: 16.4" Task Force
Optic: Axial Arms 3x
Underbarrel: Field Agent Grip
Rear Grip: Airborne Elastic Wrap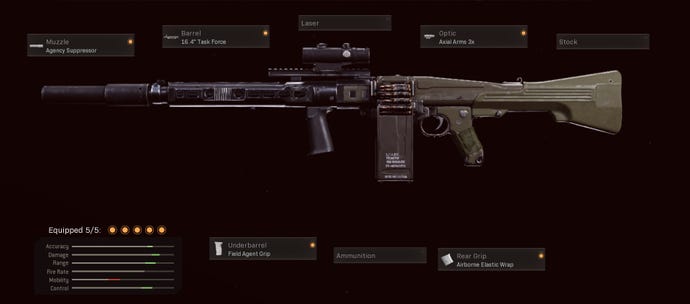 Like most LMGs, this MG82 is built to stay on target and ruin your enemy's day from range. That's why I've put the Agency Suppressor and 16.4" Task Force on the build. With these stacked up, your bullet velocity will be astronomically faster than the base version of the gun, meaning you can essentially shoot directly at your enemies to an astounding range without having to lead your shots. They're also super handy for controlling your recoil, so you'll find it even easier to mow down whole squads. I've put a Field Agent Grip on here for the same reason: you want to reduce your recoil as much as possible to stay on target at range.
The optic attachment is very much up to you, but the Axial Arms 3x is a favourite amongst the community thanks to its clean sightline and solid range. The Airborne Elastic Wrap is something of a luxury attachment, and if you don't think your already massive mag size is big enough, feel free to put an extended mag on instead. I feel more comfortable with this rear grip though, as it stops you from flinching as badly when shot at, helping you stay on target in gunfights.
---
Secondary weapon
You definitely want a good close-range secondary with this loadout. The OTs 9 and Tec-9 are both top tier right now, and both MP5s are excellent. Visit our full guide to the best SMGs in Warzone for more options!
This doesn't mean you should avoid Ghost though! Use Overkill to get both of your weapons, then grab Ghost at your next opportunity. For more on Perks, we have a complete Perks guide with rankings for each slot.
---
How to unlock the MG82 in Warzone
The MG82 was originally part of the Season 4 Battle Pass, but now you'll have to complete a challenge to earn it. To unlock the MG82, you must kill 3 or more enemies with LMGs without reloading in 15 different matches. You can do this in either Warzone or Black Ops Cold War multiplayer. If you don't own Cold War, head into Plunder with a PKM or Bruen loadout to get this done quickly. Plunder will typically be much faster for challenges than Battle Royale, since you respawn with your loadout throughout the game.
If you do own Cold War, pick a playlist with short matches like Team Deathmatch, pick up your LMG of choice and go to town. Just remember, you have to finish the match for your progress to count, hence the desire for short matches. If you own Cold War, this is our recommendation for the fastest way to unlock the MG82.
---
There you have it! The best MG82 loadout in Warzone - good luck in there. If you're unconvinced, you can have a look at the other best Warzone Light Machine Guns. Alternatively, we have a big ol' best Warzone loadouts page to give you a real deep lowdown on this sort of thing.