Watch 5 minutes of the gory Resident Evil 2 remake
Leon's not doing so great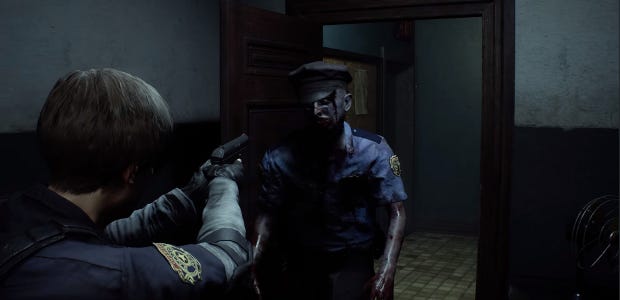 Do you want to see more of Resident Evil 2's floppy-haired Leon as he runs away from zombies? Of course you do. After a few years of waiting, Capcom's gory remake finally made the rounds at E3 this year, and gosh does it look flashy. This isn't a 20-year-old game with a fresh coat of paint, but rather a proper remake. Point your eyes at the new trailer, below.
That Leon sure does like to watch people get sliced in half. And who keeps sharpening the bottom of these gates?
Anyway! It looks rather flashy, doesn't it? Grisly too, of course. And here's what the Raccoon City Police Station looked like in 1998:
Quite the improvement! Despite the visual transformation, Capcom says it won't be changing too much, though thankfully the tank controls are gone, replaced by modern third-person shooter controls. That won't please everyone, but they're wrong.
Last week, Capcom announced that we'd be able to return to the zombie-infested streets of Raccoon City on January 25, 2019.