Watch Dogs Isn't About Dogs, It's About Computers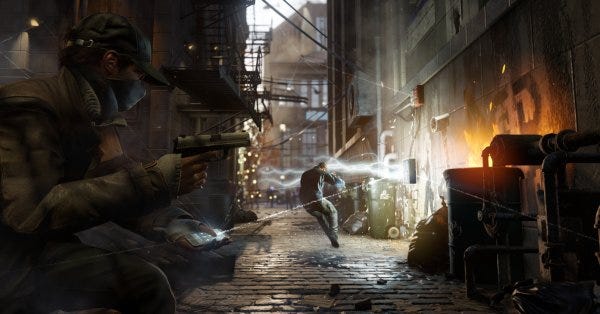 Watch Dogs seems like just the game to mark the burgeoning brutal reality of governments around the world using technology as a boot with which to stamp on human faces, forever. It's a game about a fairly cool trenchcoat maverick-not-playing-by-the-rules guy - I mean I say "fairly cool", I would never want to look like him, or dress like that, but okay he's the kind of individualist freedom fighter a nerd like me can get behind - who uses modern things like phones and internets to fight back. He use guns too. They're like computers that can make holes in stuff. They'll never go out of fashion for fighting back, right guys?
Right! Anyway, a new wad of glossy commercial trailering reveals a lot more about that hacking stuff as you can see below. Gosh, it looks fancy.

Hacking! Less about spending hours and hours humming to yourself while running a stack of naughty programs, and more about... predicting crime using computers? What? Looks like Ubisoft's story department has been drinking too many caffeinated beverages again. Oh, you guys.
Watch Dogs is out between the 19th and 22nd of November, depending on which side of the internet you live on.