We Happy Few to offer early access refunds after another delay
Far out, man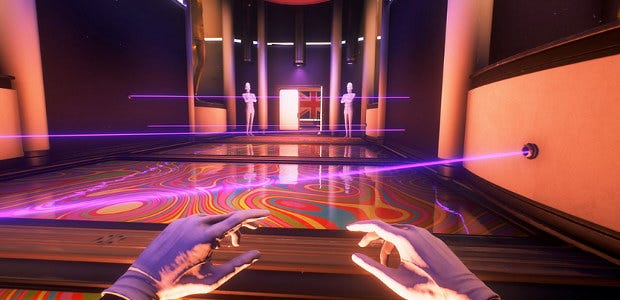 As development of swingin' 60s survival game We Happy Few takes even longer than anticipated, and with no more updates due until the game fully launches, developers Compulsion Games have announced plans to temporarily pull the game from sale and offer refunds to everyone. Complusion are not abandoning development, to be clear, but they are delaying the full launch again - until summer 2018. That'll be about a year after its last update, so they worry that people buying it won't be satisfied with that as an early access experience. So they're taking it off sale until it's done, and offering refunds to those who want 'em.
We Happy Few, to refresh your memory, is the sneak-o-survival game set in a 60s English city which seems delightful if you're taking your mandated regular dose of Joy but a dystopian hole if you're not. It's an interesting Prisoner-ish setting but one that hasn't really shone in early access. It was partially crowdfunded through Kickstarter, then aiming for a June 2016 launch. When it hit early access in July 2016 Alec liked the setting but found the survival dull. Though Adam found it more promising after a big update a few months later.
The final update was in August 2017 and no more are planned until it leaves early access. That's a long wait for a game that's a little slim - especially as it currently costs a whopping £38.24. That's one reason for the pull-o-refunds, Compulsion explained today.
"We have also received feedback that some Steam players felt the new pre-purchase asking price didn't mesh well with the game being categorized as Early Access. Given all the content we have yet to reveal to the public, we can see their point. That being said, we've done a huge amount of work and the scope of the game is substantially increasing over what's there right now, which is a very unusual situation for Early Access games, especially as we have a retail release on the way. What you guys see right now is definitely not what we see internally.

"So, we find ourselves caught between Early Access (where it's important to have a price that reflects the current game) and the eventual release of the full game with increased scope (which we believe reflects a traditional retail game). We had anticipated that Steam players would be okay with pre-purchase still granting early access, but since we won't be offering any additional early access updates beyond August's "Life in Technicolour", we think having this labeled Early Access and charging the price of a larger game caused more confusion than we had hoped."
At the end of January, they'll disable buying the game until it's closer to launch. If you want in now, get in right now. Conversely, if you want out, Compulsion say they're enabling refunds for all owners, regardless of how much they've played it.
This is a nasty bump in the road for the game, and a worrying one, but Compulsion say work still continues. They're still posting dev blog updates and you can meet the second playable character, Sally, at the end of today's video announcing the delay: