Weather Warcast: Elements Of War Gone Gold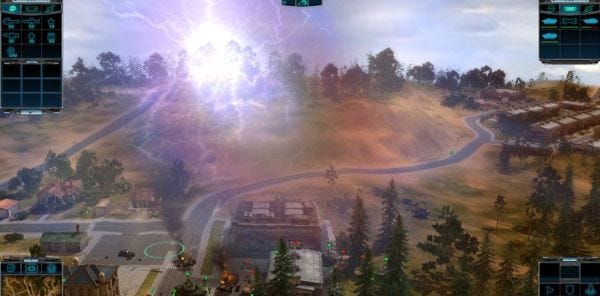 Elements Of War, which we briefly mentioned last year, has gone gold and gained a release date. April 12th in the States, and then silence. But still nothing so grown up as a website. Apparently wanting to know the relationship status of other games, however, it does have a Facebook page. (Come on folks, this isn't professional.) The game sounds intriguing - it's an RTS in which you wage war with weaponised weather. Or "WWWWW" as I call it.
Published by Kalypso, Elements also features conventional weapons alongside angry snow, or whatever it might be. It's super-modern stuff, tanks, helicopters, and futuristic weapons including "powered exoskeletons", which sound awesome. There's even planes that throw lightning. This game sounds increasingly like it was designed by a seven year old boy with a box of crayons.
"There's tanks and then there's planes and then there's helicopters and they all blow everything up and then the rain is evil and the planes throw lightning!"
All games should be designed this way. As you progress you'll be able to, um, attack people with tornadoes and earthquakes. Erk - timing is everything, isn't it? Their press release sets the scene:
"Set on Earth in the not-so-distant future, Elements of War focuses on a conflict for the survival of humanity that ensues after a secret military weather control experiment sets in motion a near-complete global climate collapse. Three factions battle on American soil for control of fearsome weather-based weapons, granting them the power to use tornadoes, hurricanes, earthquakes, torrential rains and other forces of nature as weapons of war. Are you ready to wield the Elements of War?"
Well are you? Maybe this trailer will help you figure it out.
However, it has nothing to do with this: