Week in Tech: CES Show Special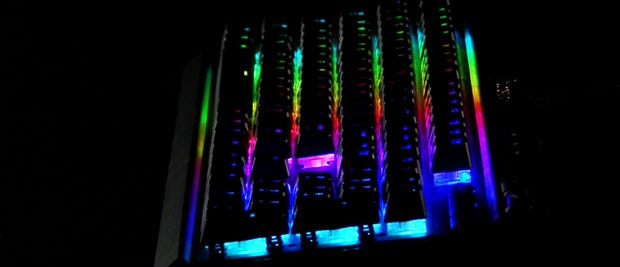 Pull up a chair, pop the kettle on, stoke the fire, strangle a cat - whatever it is that loosens you up for some serious hardware hotness (Legal disclaimer: Do not strangle a cat) - and brace yourself for my CES round-up. We've already covered a few of the major announcements and developments, including Steam machines, high-res Oculus Rift and Razer's Project Christine easy-upgrade shizzle. So, here's my guide to the other PC gaming-relevant wonders from the festival of rampant, nihilistic consumerism that is the CES show in Las Vegas. There's plenty to talk about including the messiah of monitors (Asus's G-Sync-enabled, 1,440p effort), AMD's G-Sync-bashing FreeSync and next-gen APUs, high-DPI PCs gone mad, an RGB-backlit keyboard and slick new cases from Corsair and, well, just stuff, stuff, stuff.
First a quick menu of what you'll find below. The subjects pop up in same order in the text, so that should help you quickjump to the bits you're interested in.
- Asus's 'Jesus' monitor – 1,440p, G-Sync, 120Hz
- UHD / high-DPI laptops
- Thin-and-light gaming laptop from Gigabyte
- AMD's G-Sync-bashing FreeSync tech
- AMD's new Kaveri uberAPU
- New Corsair cases and water cooler
- Corsair's RGB-backlit keyboard

Not the messiah, just a very naughty screen
The Asus 'Jesus' monitor, then, a.k.a. the RoG Swift PG278Q. The headline facts go something like this. 27 inches, 2,560 by 1,440 res, 1ms response, Nvidia G-Sync enabled and 120Hz refresh capable. Sounds like gaming nirvana, assuming you've the GPU minerals to drive it.
But hang on? 1ms refresh. Do I smell a TN panel? As far as I can tell, the panel type has not officially been revealed. Tellingly, Asus has not quoted viewing angle figures, which always betray a TN panel.
If it is a TN panel, it must be brand new as I'm not aware of any of the big panel makers producing a 2,560 by 1,440 effort. But before you throw up your arms in horror, bear in mind that the latest TN panels are so much better than before.
Walks on water: Asus's new high-res, high-refresh monitor promises to do it all
And if this is TN, it will be the very latest tech. So, I'm keeping an open mind even if I'm aware it needs to be shit hot to justify the $800 price tag and overcome the anti-TN sentiment.
Anyway, a proper high res panel with fast refresh is what a lot of people have been waiting for. That it adds Nvidia's frame-rate smoothing G-Sync tech to the mix is just gravy. Can't wait to try it out.
High-DPI in the sky
While we're on the subject of high res gaming, a big theme at CES this year has been high-DPI of all kinds. Toshiba has announced some UHD-going-on-4K 15.6-inch laptops with 3,840 by 2,160 pixel panels. The first is the Tecra W50 which is actually a workstation, lappy.
But the Satellite P50t is more of a multimedia and gaming effort. MSI also had some 2,880 by 1,620 notebooks. But though it's fair to say I'm a long-established high-res whore when it comes to PC displays, these systems simply do not make sense.
Ludicrous lappy: Toshiba is bringing 4K screen tech to laptops
That's because Windows (even Windows 8.1) can't cope with high DPI. In fact, I recently had a play with the new Dell 24-inch 4K monitor and that's not really usable. So 4K on a laptop is idiotic.
Moreover, graphics performance is at a premium in a mobile PC and 4K is simply too much screen for the best desktop GPUs much less anything mobile. Sorry, but this high-DPI stuff in laptops is epic overkill.
Thin-and-light from Gigabyte
Instead, what is interesting involves the trend towards thinner and lighter laptops with proper gaming chops. Gigabyte pulled wraps off the new Aorus laptop that combines dual mid-range GPUs (Nvidia GTX 765M) with a 17.3-inch 1080p panel and squeezes that into an alloy chassis merely 23mm thick. Could be interesting.
No 4K guff here, just gaming grunt in a thin and light (ish) from Gigabyte
Frame-rate for free
Next up is AMD's FreeSync tech. It's a response to Nvidia's G-Sync tech which we've covered in RPS posts passim. To cut a long story short, it's claimed to enable super-smooth frame rates, the likes of which no other technology has enabled.
The problem with G-Sync is the need for special circuitry in the display. FreeSync, ostensibly, has no such requirement. It leverages an existing VESA standard to enable better syncing twixt GPU frame rate and screen refresh.
AMD demo'ed a boggo, commercially available laptop at CES that was running FreeSync without the need for any new hardware. Problem is, the necessary interfaces and firmware are very likely only found in laptops. As far as I'm aware, no desktop monitors will be able to do it.
In theory, a firmware flash could enable support for FreeSync. But very few (any?) monitors have user-upgradeable firmware. So FreeSync isn't the killer solution it first seems. Assuming it's as good as G-Sync in the first place.
AMD's killer APU
Meanwhile, AMD also gave some airtime to its new Kaveri uberAPU. Kaveri gets AMD's new Steamroller CPU cores which do away with some of the resource sharing of the Bulldozer and Piledriver cores in the quest for better per-core and per-clock performance or IPC (Instructions per clock) in industry parlance.
AMD's Kaveri could be killer for cheap gaming portables
For AMD to keep Intel honest, it needs better IPC. And now we have an idea what Steamroller delivers, namely 'up to' 20% better IPC. If I'm honest, that's a bit disappointing. In some ways, it's a big leap. But it won't put AMD on a par with Intel, nothing like.
Also, while full details haven't been released, it looks like kaveri chips will be roughly 10% lower clocked that their predecessors. So the CPU part of the Kaveri package hardly looks killer.
But wait, because it's graphics where Kaveri could really score. The new chip has 512 of AMD's GCN stream processors. For context, the XBox One has 768 of same, the PS4 sports 1,152. So 512 is pretty nifty for what is effectively a cheap integrated GPU.
I'm not sure Kaveri is going to shake things up on the desktop, even if it will likely form the basis of really cheap Steam boxes with tolerable performance. Instead, it's cheap laptops based on the same basic chip that I'm looking forward to. They should be pretty sweet as occasional gaming devices.
Corsair kit
Now onto to some case and cooling kit from Corsair. I'm generally pretty down with Corsair kit. They tend not to make rubbish. The slick looking Graphite Series 760T full-ATX case certainly seems a quality item, as well it should for $180.
A slick bit of mini-ITX kit
But it's the Obsidian 250D that's really caught my eye. It's a mini-ITX item but supports full-length graphics cards and water cooling. It's in the same ballpark as the BitFenix case I posted recently, just better engineered. It sounds very cheap for $90, so here's hoping that pricing turns out to be realistic. I'll work on getting one in for a closer look.
Corsair also showed off it's latest water cooler, the Hydro Series H105. At $120, it ain't cheap, even for a 240mm dual-length model.
But if my experience with previous Corsair water coolers is anything to go by, it will be a solid bit of kit. And don't forget, it's the kind of item that you can carry over when you upgrade CPUs, mobos, cases and more.
Optimus subprime
And finally...Corsair has also been previewing an RGB-backlit keyboard. Personally, I'm still smarting from the unfulfilled promise of the Art. Lebedev Optimus. Oh, what might have been.
Nice idea, pity about the price

Corsair's keyboard is nothing like as ambitious. Instead of a mini OLED panel in each key, Corsair has gone for a simple RGB backlight per key. If it sounds like a gimmick, it would allow for highlighting only relevant keys for gameplay, which I reckon is worth a small price premium
Corsair's RGB board sounds simpler, but pricing could still be a sticking point
The Corsair MX RGB keyboard is still a development product, so there's no firm word on pricing or if it will even ship as a retail product. At the right price, I reckon it's a goer. But Cosair had better beware the price inflation that beset the Art. Lebedev Optimus project. There's a limit to what people will pay for this kind of thing.
And that's about it. If you chaps have seen anything interesting at CES, do shout out below.