We're All Going On An Arma Holiday
First There Was Arma, Now There Is Three Of It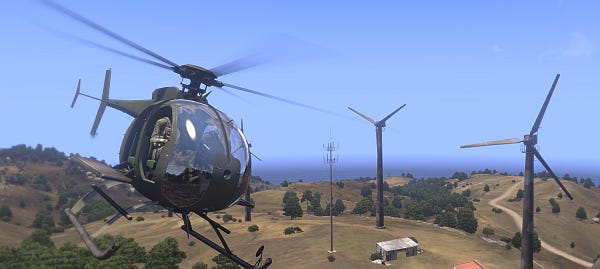 That almighty mighty thump you just heard was Bohemia deploying the island of Altis into Arma 3. The first stage of the full release is the delivery the huge landmass into the development branch of the game (Steam > Arma 3 Beta > Properties > Betas), prepping it for a load of content to follow. Unless you're handy with the editor, or download one of the early missions on the game's Steam Workshop, there's not much to do yet, but that shouldn't stop you from loading it up. The detail they've put into Altis is reason enough to play it. It's beautiful. A landmark creation for the PC. I've put together a little tour of the island if you fancy seeing the sights.

Altis really is a remarkable achievement. The sameyness of Stratis is another world away from the hills, fields, forests, villages, cities and ruins that are baking under the Mediterranean sun. There are salt flats, solar farms, and chapels to visit. There are caves to discover, sharks to swim with, islands to explore, and bees to photograph. I've been all over this complex mil-sim's newest landmass, but I've yet to fire a gun in anger. I spent a few hours flying around the map, initially just seeing what I could see, but eventually I had some help from Arma 3's Creative Director (and answerer of my many ridiculous queries), who sent me to a few of his favourite locations. I've included both vague area descriptions as well as exact map co-ordinates to cover each kind of explorer. Here's what Jay and I think you should see.
Kavala, West (035129)
Jay picked out the old capital as a place of interest. A sprawling city that used to be the capital. It reaches into the land from the coast, dominated by a ruined fort. Arma fans will look on the winding roads and hilly backdrop as an amazing place to stage brutal battles, but I just want to retire here.
Solar Panels, centre of the island (155162)
You can't miss the airstrip smack in the middle of the island. East of that is the power plant, but it's not like any power plant I've ever seen. Taking advantage of the sunny climate, there are acres of reflective panels fanned out, mirroring the island's historic amphitheatre. Speaking of which...
Amphitheatre (200200)
West of the salt flats, between Pefkas Bay and Kalithea Bay, Jay's pick is crumbling crescent of ancient rock that's a great place to perform impromptu helicopter rock operas as the sun goes down. Here I am bashing out Aperanta Horafia.
Abdera Village, North of Syrta (094202)
Jay's pick. Of all the villages he could have selected, he's taken us to the hilly north of the island, where the terrain rolls like a rumpled duvet. Clinging to one hill is the village of Abdera, a mix of ruins and new houses that's the perfect place to stage a small, lop-sided battle.
South East, Windmills at Selakano (203059)
These wind turbines might be environmentally friendly, but I discovered they're particularly unfriendly to helicopters. I crashed into them is what I'm trying to say. They stretch on for miles, and I can watch them for, ooh, ten minutes? Longer if it's foggy.
Lonely Windmill, South-East of Panochori (055107)
Jay calls this a 'Lonely Windmill', and who am I to argue. I'm me, that's who: where he seems something forlorn and a little sad, I see a mill contemplating the fact that he can see a bee's shadow in a game about shooting things. He's not lonely at at all! He's enjoying the solitude.
Where The Big Buoys Are, Mazi Bay, East of Selakano (218062)
When I asked Jay why he chose this place, he shrugged and shouted "I LIKE YELLOW", which is as good a reason as any. It's an amazing place, a sort of graveyard for buoys, like a giant's spilled his pill bottle on the coast of the island. Can someone tell me what giant buoys are actually used for?
Serial Killer's Den, Island of Makrynisi (133118)
At least I think it's a serial killer's lair. It's certainly grim. On this sliver of land, a little bit South of the main airport, there's a single gravestone near an abandoned shack. The grave didn't do its job very well, with bones and skulls spilled out across the surface, yellowing with age. It's not a happy place.
Skull Henge, Cap Makrinos (144061)
I can't call it "Stone Henge" because the Stone Henge committee will get Neolithic on my ass. But this lovely little island South of Altis is the perfect place to sit and watch the fog roll off the mainland as the sun comes up. It's another place where Bohemia have suggestively plonked down a skull. You can sit and watch the sun peak over the shiny dome, pondering what sort of human awfulness occurred here.
Underwater Ruins (150068)
These are almost impossible to find without the map reference. Head to 150068 in the editor and equip a diver or a submarine. They're pretty deep down, and their proximity to the nearby Not Stone Henge suggests some sort of connection. Either that or really bad planning.
The best thing about Arma 3 is how easy it is to set up a photoshoot in the game editor. You can plonk someone in the map, hit Esc to bring up the menu, then select Camera. Now you'll have access to the Splendid Camera. I'm not a very good photographer, so feel free to share your own, better, shots of the locations you've stumbled on. Find things, uncover secrets, and make sure you enjoy the view. Away from specific settings, Arma 3 generates gorgeous sunsets, rolling fog, and wonderful storms as well, so you'll never be short of a subject to shoot. Share them below and tag where they are. I want to see what you've found.