What Big Swords You've Got: Core Blaze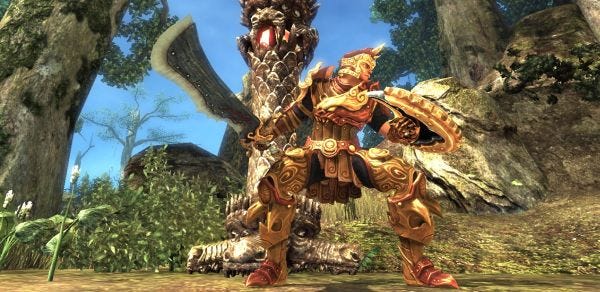 Have you heard of Core Blaze? No, nor me. But it's got both ninjas AND robots! There, I got my own attention. And it's an MMO. Oh, I lost my attention again. But look how big their swords are! Now I've confused myself with homoerotic imagery. It also boasts some quite remarkable claims of adaptable quests, even depending upon the time of day they take place. Now I'm feeling sceptical. I've really run the gamut of emotions here. Now I don't know what a gamut is. There's a trailer below. Now I want to click.
I realise that it's called a "longbow", but this just looks impractical:
Here's the blurb on those quests from publishers Gamania:
"Inspired by Eastern mythology, Core Blaze offers a structured fantasy world unique in its main and branch leveling design. Its free customization alters the core gameplay experience dynamically depending on various factors, such as the player's current level, choice of combat style and weapons, geography and map environment, monsters' element, and even the weather and time of day. Changing any factor produces a new quest line and outcome, which will change the player's strategy, even when entering the same map at a different time of the day."
They're aiming to get it finished in the second half of this year, presumably with plans to go for a Western release since they're promoting it over here. Enjoy the video: