Praise The Sun! Dark Souls III Out Today
Unlocking tonight!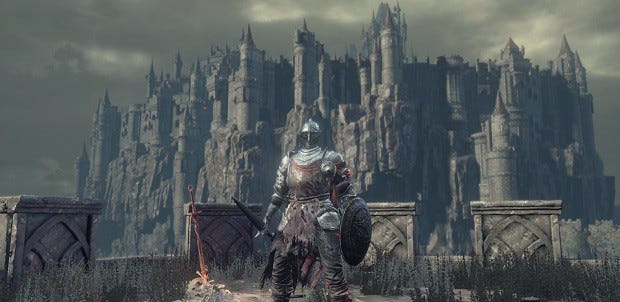 Today's the day for Dark Souls III [official site]! This is a good day. Maybe you've read Wot Adam Thinks (spoiler-free!), maybe you've devoured every available scrap of Dark Souls III information, maybe you've tried to avoid as much as possible, or maybe you're thinking now might be a fun time to check out that 'Dark Souls' everyone is always going on about (I suppose you could also not care about it, not be able to afford it, or actively dislike it, which are also fine). I know technically it comes out on the 12th, but that's in Japan - half the world can play today.
As Bandai Namco explained a fortnight ago, here are the unlock times on Steam:
Monday April 11th at 3:00 PM PDT (UTC -7)
Monday April 11th at 5:00 PM CDT (UTC -5)
Monday April 11th at 6:00 PM EDT (UTC -4)
Monday April 11th at 7:00 PM BRT (UTC -3)
Monday April 11th at 11:00 PM BST (UTC +1)
Tuesday April 12th at 12:00 AM CEST (UTC +2)
Tuesday April 12th at 7:00 AM JST (UTC +9)
So for us currently enjoying the blue skies and warm winds of British Summer Time, that's 11pm. Pre-loading is already underway on Steam for folks who pre-ordered, which... I know what we say about pre-ordering, but I trust Wot Adam Thinks (again, not spoiler-y) and am up for that, and could save myself a few pounds for a pint.
Ooh aah and look, here's the intro cinematic again:
How's your fake illness coming along? You know, the one you've carefully cultivated over the past week or two so work won't be surprised if you turn up late/sleepy/never. Me, I caught flu on a plane back from GDC (hey, it happens all the time - "the GDC flu" they call it, man) and while I mostly recovered oh dear, you know me, I just can't relax, I got behind on sleep, I ran myself ragged, and the flu came back with a vengeance. Cough cough, sniffle sniffle.